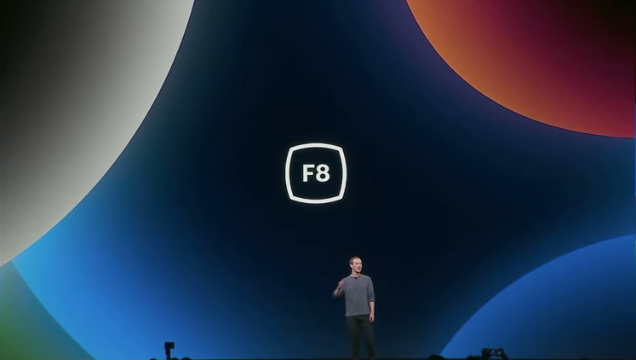 The super power the internet gave us the ability to connect with the whole world in one, it enabled us to cross geographic boundaries to form new kinds of communities that couldn't even exist before, it allowed emerging creators and entrepreneurs to find global audiences and it allowed new ideas and movements to spread faster than before.
But when you're connected to billions of people at the same time you need to be more self-secure this is where privacy gave us the freedom to be ourselves now it's easier to feel like you belong when your part of smaller communities and closest friends.
It's no surprise the fastest way the world's communicating online is through private messaging, small groups and stories.
As the world gets bigger and more connected we need that sense of intimacy more than ever so that's why we believed the future is private.
Features of a Private Social Platform?
Simple and Secure Payments
Private Location Sharing
Private Messaging
Small Groups
Stories
Six Private Principles Interactions by Facebook for Communicating:
Private Interactions – Now you can be complete confidence that what you say and do is private with clear control on what you're communicating.
Encryption – End-to-End encryption prevents seeing the data to anyone what you share in the apps, unless someone asks you to share it.
Reduced Permanence – Don't worry about what you share or say is going to come back to hurt you later because your messages or stories will no longer be available until you'd want them to be.
Safety – Safety is what we look first when it comes to privacy.
Interoperability – Use any of the messaging apps to reach your friends to easily communicate securely across different platforms.
Secure Data Storage – Any sensitive data will not be stored where it may be improperly accessed, No one can access your data forcibly. (Week Laws, Government Agencies Etc.)
Facebook & Mark on Data Privacy:
Facebook as known is being used by Billions of users around the globe keeping this in mind Facebook has played crucial roll in introducing new features to its customers through their messaging apps or Facebook itself.
In the recently concluded, F8 conference Mark Zuckerberg has introduced new features and products which are now the hot topics among the technology experts and social media enthusiasts, As the talks were about privacy which is something Facebook need to take it seriously since Mark Zuckerberg was questioned about data breach, privacy and security by the Congress lawmakers last year in April 2018.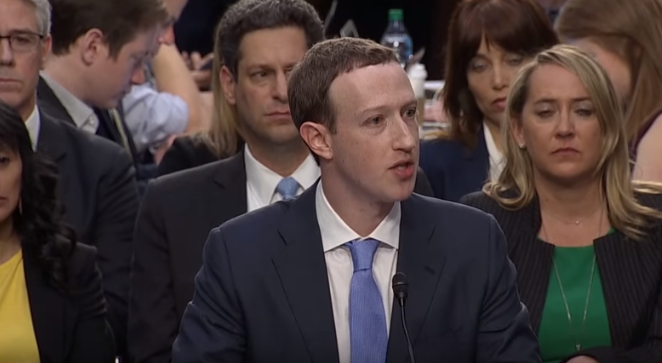 Mark Zuckerberg admitted that "we don't have the strongest reputation on privacy to put it lightly"
So, If Facebook & Mark really care about user privacy then it's going to be a big update for the billions of users worldwide who are day & night in touch with this messaging platforms.
Here are the F8 Feature Announcements:
FACEBOOK:
Facebook Website & Logo Revamp: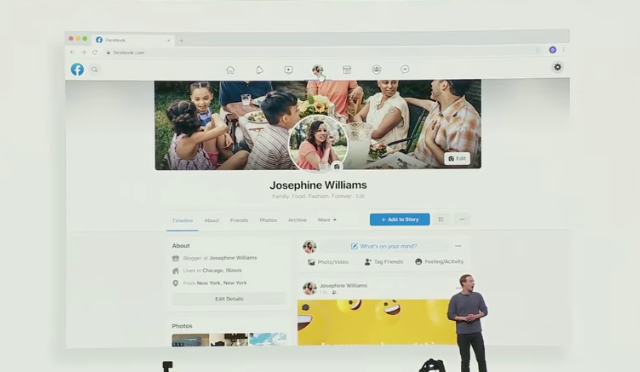 Facebook will no more be blue; Yes, Facebook has revamped its Facebook page template design with complete change in the interface adding more white color to it, this is the biggest change in the last 5 years by Facebook. The look and feel of the website are more impressive now.
Facebook has also changed its logo into circle and giving it more lively look which looks like in the below image. Also, the logo color has been changed to lighter blue. You can see this update in the coming few months in India.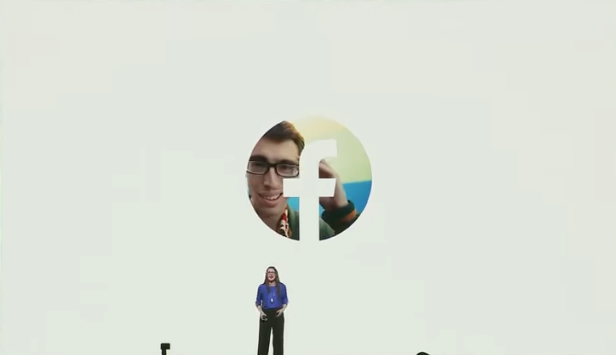 Black theme for Facebook FB5:
This is a good update for the users, FB5 update brings you the dark mode options in the page where you can switch the button to change the appearance of the page to dark this gives your eyes a break while watching videos in the night.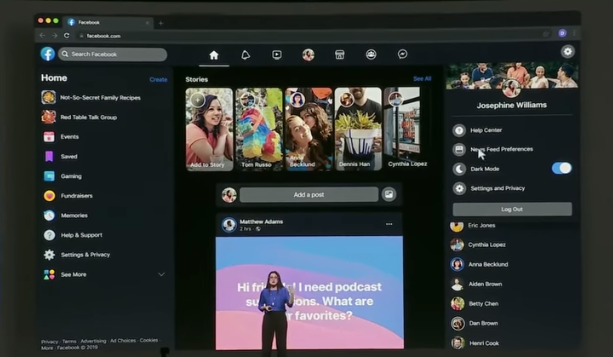 Groups at the Heart:
FB5 version of Facebook has given more importance to communities to make it as central as friends which has much lighter design, easy to navigate, easy connect to the groups, easy browsing options inside the app and keeps your groups right at the heart.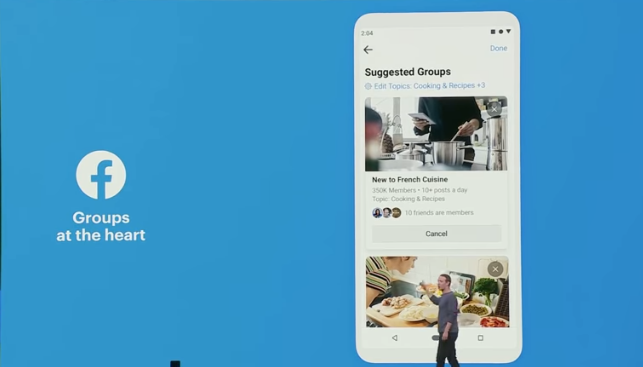 Safety:
Facebook has focused on user safety providing recommendations to avoid sharing misinformation or harmful content, Facebook will be removing those groups which violate their policies or do this that are unsafety to the users.
FB5 version is the biggest change to Facebook website and mobile app in the last five years making it much faster and lighter to use.
MESSENGER:
Facebook is working on a project called Lightspeed the main goal of this is to make messenger the fastest messaging app by decreasing the binary size smaller compared to WhatsApp and any other social messaging apps. Lightspeed will be rolling out in a few months. Below is the benchmark on how lightspeed can be faster compared to other social messaging apps.
Lightspeed is 2x faster and 7x smaller than other leading apps.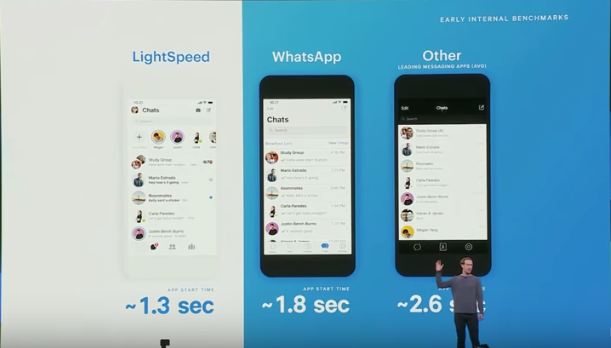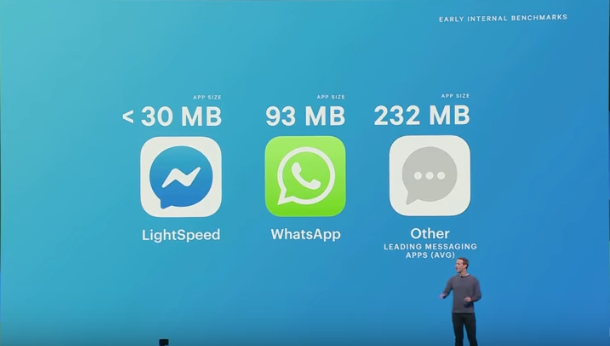 Desktop App:
Facebook messenger will now be available in desktop making it more native for the users certainly to chat and video chat, This feature will be available both on mac and windows.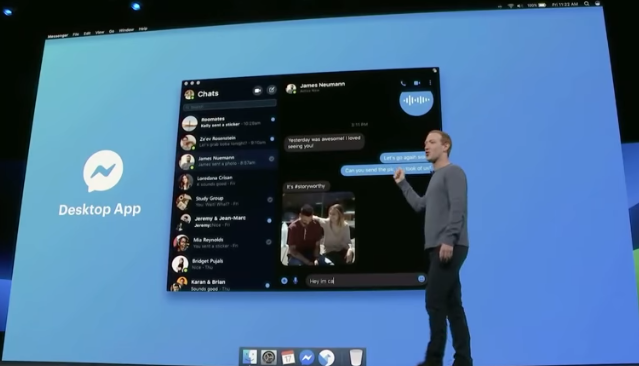 Secret Conversations:
Messenger platform is now end-to-end encrypted, Facebook has launched secret conversations which reduces permanence the default across all the conversations in both messenger and Whatsapp to enable more than 2 billion people to have their personal communications privately without any worry of hackers or even third parties or even Facebook to see what you're saying. This is a historic step for Privacy by Facebook.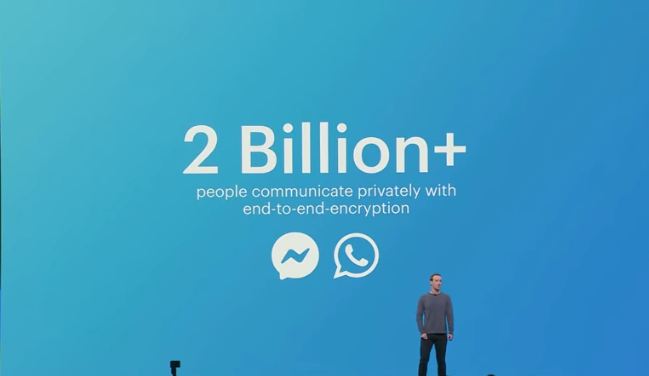 Friends Tab:
Facebook is launching a friends tab in messenger were you can be able to see your friends posts, stories from those whom you are following on Facebook & Instagram or different apps it's gonna be all private content without any public content.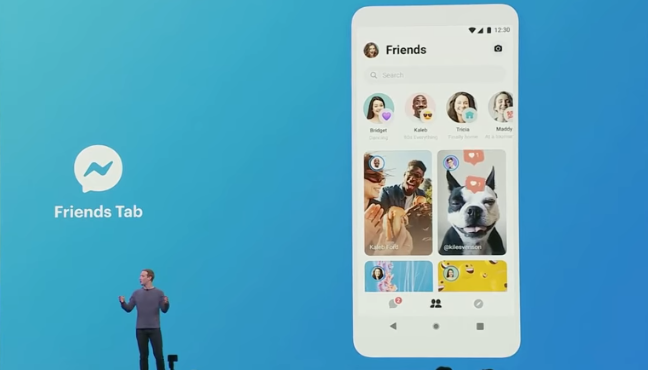 Watch Together:
Facebook is also launching video which has the ability to watch videos with your friends giving the live experience in a living room.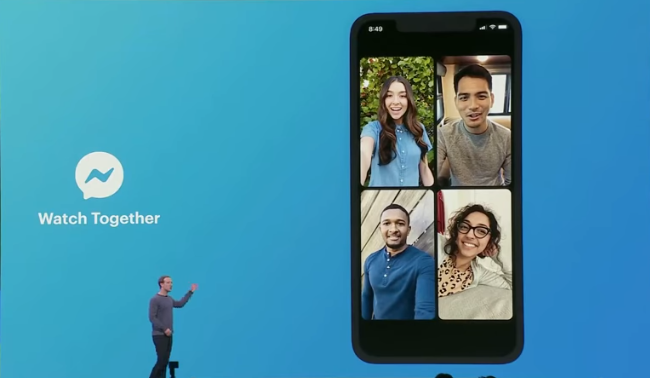 WHATSAPP:
Whatsapp which was acquired by Facebook in 2014. With a user base of 1.6 billion half of them using it in India. When it comes to privacy and security whatsapp has really strong interface Keeping this in mind Mark has announced few more new features to the app making it more reliable and useful for it's users.
Product Catalogs:
This update from Whatsapp is basically for small business owners who cannot afford an outlet to sell their products, this feature makes it easier for small business owners to share their products and services more conveniently with their connections. Whatsapp will become more an eCommerce platforms if this feature works perfectly for the small business owners.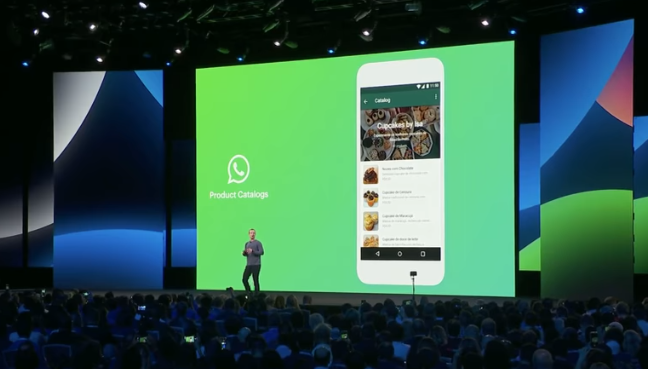 Payments:
After its success in India and with a great feedback from the users, Facebook is planning to launch this payment feature in other countries as well. With this feature updates Facebook is trying to overcome big giants like Google Pay, Phone Pe and Paytm in India and other messaging platforms around the world.
INSTAGRAM:
Shopping on Instagram:
Using this shopping feature on Instagram you can directly place your order on your favorite products within the app and do a checkout, this feature is widely used in India. This is again a big bang on the online eCommerce market.
Instagram has also announced a new way to buy directly from the creators which means from the person who original made the stuff this is great way to show your love to their products which is big deal.
Create Mode:
On top of stories Instagram has got another new feature which makes it's camera a lot better, Instagram has announced create mode where you can start the story with a sticker, text or drawing etc. without needing to add a photo or video.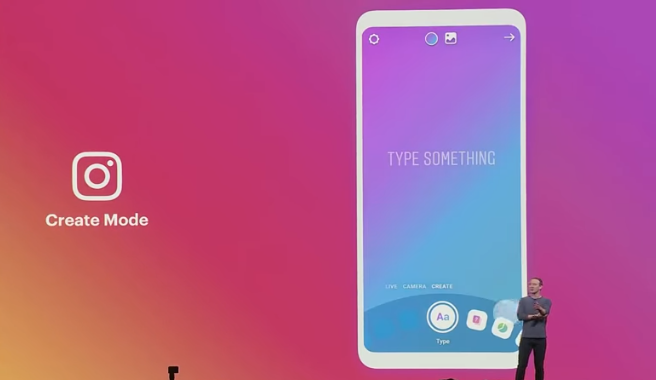 Donation Stickers:
Instagram is also launching donation stickers where you can create fundraisers for any causes that you care about this is more an helping hand to reach fundraisers and help all the different community people worldwide.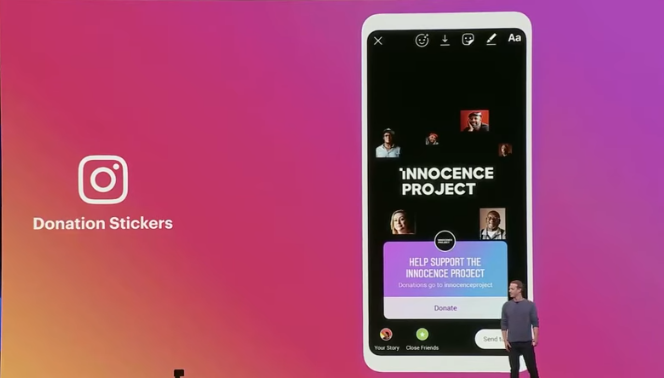 Private Likes:
Instagram has introduced another new feature which I think is very helpful for the owners. With this update people will be able to see photos and videos updated by their following but not the number of likes they got. From now on the total number of likes option will be disappeared only the owner who has posted can see this likes. While users can see the names of the people who have liked.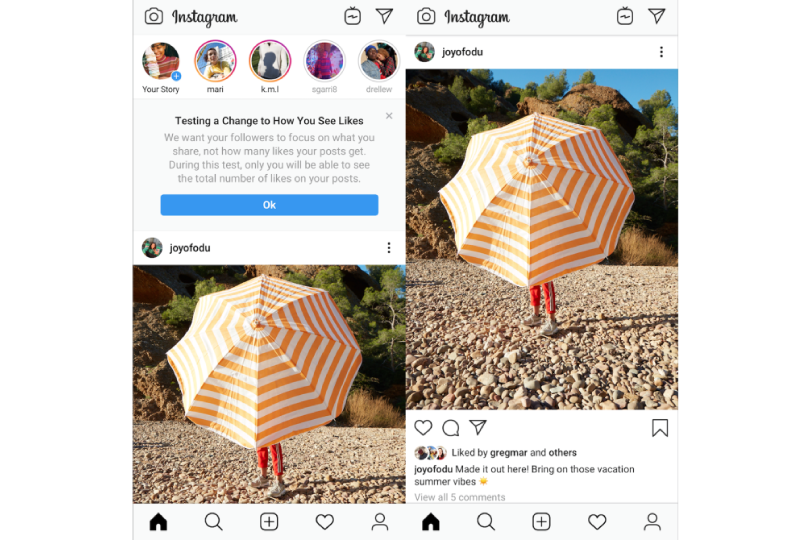 Virtual Reality & Augmented Reality:
Mark has also announced many updates on its Portal device and the launch of Oculus Rift S and the much awaited Oculus Quest. These powerful headset devices can take you to the next level in the space.
Releasing May 21st, Starting at $399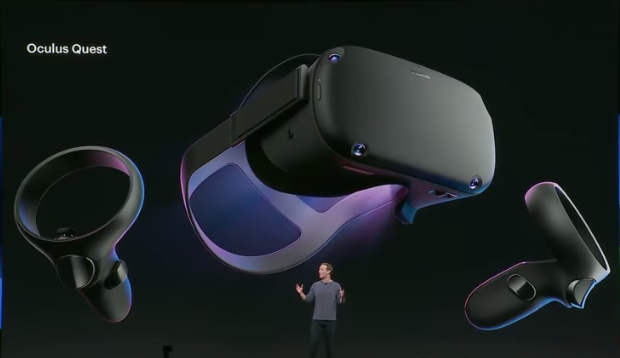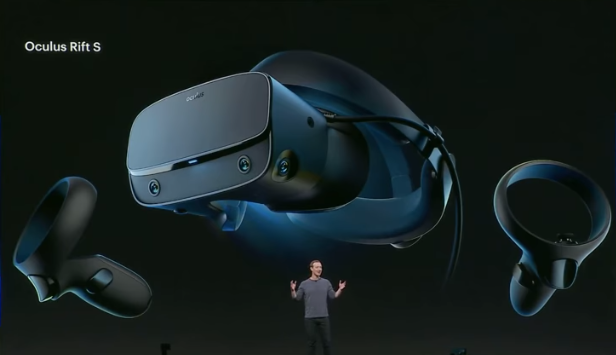 Conclusion:
Last Year was a nightmare for Facebook certainly with the privacy and data breach issues questioning the company's policies and the CEO Mark Zuckerberg himself was been alarmed by the Congress Lawmakers. But will also those fate memories aside Facebook and Mark have come up strongly with their updates in F8 conference mainly concentrating on Privacy as the future, I hope all the issues will now come to an end which they had over the years.
The reason behind the new products announcement by Mark clearly tells the intent to rule the social and eCommerce platforms with their products in each category whether it may be payments, product catalogs, groups, friends tab, shopping, secret conversations etc.
With so much to come it's gonna be a roller coaster ride for Facebook in 2019 and for the social media, technology enthusiast to watch out for.
Watch the announcement by Mark Zuckerberg in F8 Conference
Image Sources: YouTube, Google