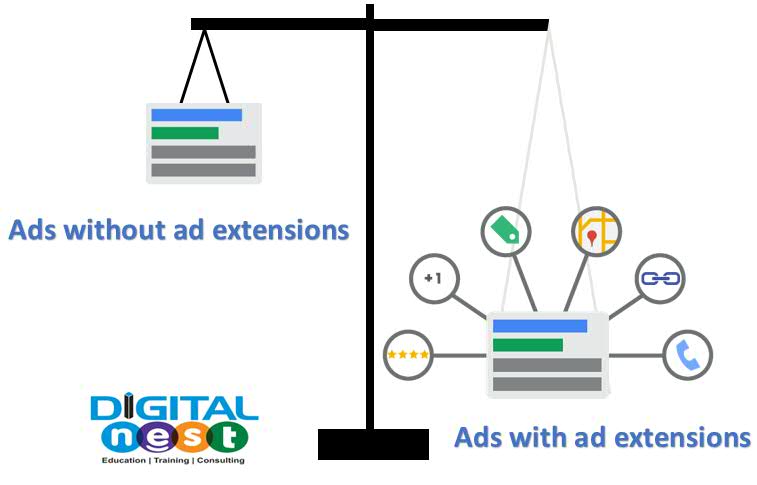 Ad extensions are type of ad format that show extra information about your business. Ad extensions enable the greater visibility of ads. It is one of the important factor for Quality score variation. Ad extensions can be managed at the level of entire account level, campaign level and ad group level.  Here are the different types of ad extensions you can use:
1)    Site link extensions:
The site link ad extensions show the links to specific pages on your website below the text of the ad. You can add the site links to important pages of your website while creating campaign. This helps customers to get what they are looking for on the site with just one click.
2)    Location extensions:
Location ad extensions show the business address, phone number and other information about your business location. Multiple addresses can be added by linking your account to Google My business. On mobile you can get more detailed information like maps.
3)    Call extension:
Call ad extensions make it easy for customers to call you directly by directly clicking on the ad. Utilizing call extensions is a great way to connect with potential customers.
4)    App extensions:
App extensions are used if our primary goal is to drive app downloads allowing to link to your mobile or tablet from your text ads. People can click on your ad headline or on a link to your app.
5)    Review extension:
Review ad extensions show the accurate, current, credible, non-duplicative third party review of the advertiser's business.
6)    Callout extension:
Callout ad extensions enable you to include descriptive text in your standard text ad. The callout text must not be more than 25 characters, symbols are not allowed, text duplication is not allowed and keyword insertion feature and trademarks cannot be used are some of the conditions for Callout extension.
7)    Structured snippet ad extension:
Structured snippet ad extensions allow your ads to highlight specific aspects of your products and services. We can provide the highlights and variety of products and services before visitors click to your site.
8)    Automated extensions report:
The automated extensions display industry-specific, structured information about products and services on advertiser's sites. This extension will automatically show eligible ads when landing page has a matching category for a search.
Learn everything related to ads and Google Adwords by joining Digital marketing course at Digital nest.