Social Media Marketing Training In Hyderabad, India
SMO or Social Media Optimization refers to using Social Media Pages to promote company, brand or information thereby increasing awareness to social media audiences. Social Media Marketing signifies marketing or advertising on social media platforms viz. Facebook, Twitter, Linkedin, Instagram, Youtube, etc.

  4.2 Rating   |  1035+ Enrolments   |   Classroom & Online
Key Highlights of Social Media Marketing Course

  Course is curated by Subject Matter                        Experts in Digital Marketing

 100% Placement Assistance

 Handouts ,Excersies and Assignments on            each and every topic in Digital Marketing

 Internship Assistance

 Only Institute in India where Training are                delivered Entrepreneurs ,who can show care          real time scenarios on Digital Marketing in            the class

Backup Classes, Revision Classes, Videos,              Assignments & Projects

  You can connect to our alumni portal that              consists of business owners, branding                  managers and skilled professionals from              business houses in India

  Trainers with 12 + Experience

Backup Classes, Videos

  0% EMI Option Available

Guest Lectures from subject Matter Experts
Learn From Experts The Most Advanced Social Media Marketing Program In India
Social Media Marketing Course Curriculum
1. Social Media Optimization
What is social media Optimization and Marketing?
How is it important for business?
How can social media be integrated with the website?'
Case studies on various social media
User engagement statics
Discussing about various surveys conducted by top social media organizations
Different social media platforms
Making a research on our country ,gender and location wise statistics of social media various platform users
Decoding brands
Setting up a vision, mission and goals for social media optimization
2. Facebook Marketing
Importance of facebook in branding a product
How can facebook leverage the business
Facebook Page Creation
Group creation
Advt creation
Event creation
Facebook updates
Facebook resources
Facebook top 15 brands case study
Facebook APi integration
Facebook layout
Facebook hidden buttons.
Facebook tricks
Facebook content creation strategy
How to improve Engagement ( likes ,share and comments )
How to build your brand on facebook
Facebook budget management
Hash tags
Facebook advertising

Sponsored posts
Sponsored stories
Sponsored events
Sponsored likes
3. Twitter Marketing
Importance of twitter in building brand and business
Fan engagement in twitter
Creation of twitter profile
Writing search engine content as bio for twitter
Hash tags
How to engage with users on twitter
How to integrate twitter with other social networking sites
Case studies on twitter
4. Linkedin Marketing
What is linked in?
How is linked in important for business?
Role of linkedin in getting brand promotion
Role of linked in human resource department
Profile creation
Company page creation
Group creation
User engagement
5. Youtube Marketing
Creation of channel
Creation of Videos
Creating Playlists
Optimizing the playlists
optimising the channel
Integration of videos in the website
Connecting Audiences to Social Networking Sites
Youtube Optimization
How to give keywords to appear videos in top search results of youtube and Google
How to Increase Views And Subscribers
6. Pinterest
Creating Profile
Creating Pins
Creating Boards
Running Contests
Importance of Pinterest in Digital Marketing
7. Instagram
Creating Profile
Creating Pins
Creating Boards
Running Contests
Importance of Instagram in Digital Marketing
8. Social Media Analytics And Automation
Importance of Social Media Automation
Various Social Media Automation and Analytical tools
Social Media Marketing Course Description
Social Media presence has become an integral part of the business today. 78percent of the small business use social media for their business and to attract new clients. Social Media can be used for a range of business activities like hiring and recruitment, promotion of an event or a product, announcing offers or bonuses, press releases, publishing magazines or newsletters, etc.
Further, Social Media Marketing provides then extra edge to target ads to respective users or desirable audience only.  Advertising on social media platforms increases awareness on social media users thereby enhancing ROI.
Therefore, the need for Digital Marketers who have the right knowledge of social media marketing is now in demand. Digital Nest helps an individual to obtain appropriate Social Media Optimization and Social Media Marketing knowledge so as to enable the learning people to manage a brand on social media and perform analytics too. At Digital Nest, the well-qualified trainers feature best examples of brands that use social media and highlight relevant case studies for practical exposure.
Social Media Marketing Training Modes
We have Physical instructor led classes happening at Panjagutta and Hitech City Branches , Hyderabad
We teach Courses online Using tools like zoom, Microsoft Teams
How E-Learning Works?
We have recorded videos of the trainer . This videos were recorded while taking the class. We kept in mind that student should feel the classroom environment while training. we request you to take a trail session. if you are satisfied you can take up the course.
For trail session and more information you can contact digital nest sales team on +91-8088998664 or write us at info@digitalnest.in
We offer special Training for Companies we first understand the company, its services and we will diagnose the present marketing practices and then we prepare a customized curriculum that suits to the needs of that particular company.
For Corporate training you can Reach our Sales Team at +91-8088998664 or you can also write to us at info@digitalnest.in
FAQ's Of Social Media Marketing Training
What is Digital Marketing?

Digital Marketing or Internet Marketing is marketing which is done using internet as medium. There are many techniques involved in doing online marketing and we train all the modules viz. SEO, SEM, SMO, E-mail marketing, ORM & Google Analytics.

Who can pursue the course?

Any individual who has passion for creativity and can navigate on internet can undergo digital marketing training.

What are the Pre requisites?

There are no pre-requisites attached to digital marketing training. But, to attain a full time employment in this field, one must be a graduate (in any stream). There is no technical knowledge required as digital marketing training is not fully technical and thus, does not require any programming knowledge.

Yes, we provide 100% placement assistance. SMEs and MNCs are adapting or shifting their current marketing methodologies to digital marketing due to its cost effective nature and ability to reach wider audiences for promotion. Therefore, opportunities for full-time employment are sloping upwards on graph. Freelancing options too are available.

Is SEO and digital marketing same?

No, SEO is one of the techniques in Digital Marketing. There are 7 other modules apart from SEO. SEO is the process of improving website ranking. SEM focuses on creating Ads on the search networks. SMO is done to promote the brand and engage customers using trendy social media as a platform. E-mail Marketing is used to send bulk e-mails or newsletters to prospects or customers for promotion or announcing offers. ORM is the tool to protect your online presence and GA is the heart of Digital Marketing.

Are there internship opportunities?

Yes, We have ties-ups with Companies that hire for Digital Marketing positions and you can avail yourself internships on a stipend basis. The Internship duration and Process decision rests with the company authorities.

What is google adwords? How can I achieve Google Adowrds Certification?

Google Adwords or PPC or Pay per click is one Technique of Digital Marketing that focuses on Creating and Managing Ads on the Search Networks. Google conducts an Online MCQ Exam for Adwords and you will need to clear 3 levels to obtain the Certification. We will support you with Study Materials and Mock Exams.

What about certifications involved?

We are a Google Certified Partner. We assess our students via tests to certify them with our certificate. We, further encourage our students to take the Google Adwords exam in order to be certified as Google Adwords professionals.

How different are you from other players?

Our training is supported with active case studies and our trainer is an entrepreneur who highlights his experience whilst training. Further, we provide running notes and study materials and we conduct mock exams for Google Adwords. We have initiated a centralized job portal for our trainees who are job hunters. To support our job seekers, we have a dedicated resource that conducts research on placements and builds relationships with corporates that are in constant search of skilled digital marketers.

I am an undergraduate, How will it be useful for me?

For an undergraduate, digital marketing training can be undertaken for addition of skills and upon completion of graduation, full time employment can be sought for. Hence, internship and freelancing can be availed by undergraduates. If one has a business idea in mind, then digital marketing can be useful for promotion of the business.

I am 38+Age. How will this training help me?

Digital Marketing can be undertaken by any individual who has a business plan in mind or who wants to make a progressive career. We have witnessed individuals between 30-45 age too become start-up entrepreneurs or are successful freelancers in digital marketing in their mid-thirties.

Since I don't have relevant experience, will the market consider me as fresher/experienced?

A Fresher is an individual who has just passed out from his/her college and is trained on digital marketing. An experienced individual who wants to shift his career scope from his current industry to that of digital marketing will be an experienced candidate but a fresher into digital marketing.
APPLY NOW
Get details In your Inbox and a call back from our course consultants
Get Course Completion Certificate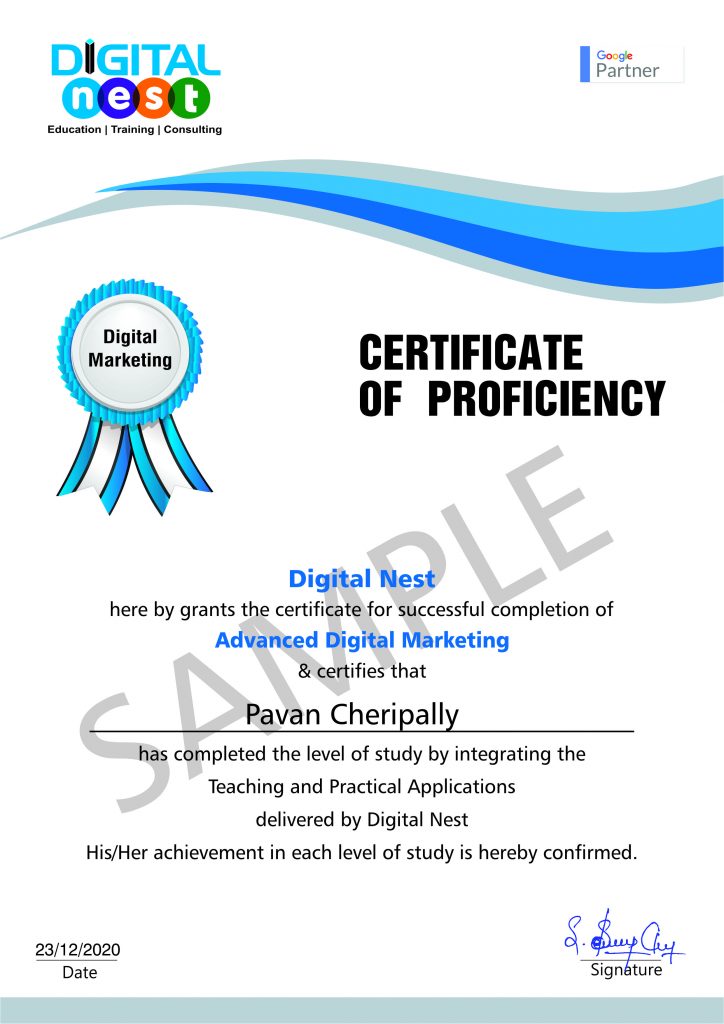 Our
Alumni Testimonials
Rated Avg 4.5*  Out Of 5 by 2000+ Learners



Best in town 1 stop solution for PPC/SEM/SEO/Google Adwords / Advanced Digital Marketing Training. Trust me, I had no idea what I was about to step into, but this whole gig turned out to be as fruitful as I'd never imagined.
Digital Nest is a great place to learn about digital marketing. Sandeep Santhosham is a trainer par excellence. He starts off mapping the ever expanding world of digital marketing, deep dives into critical components & finally steps back to reveal the bigger picture!
Students , Working Professionals & Business Owners From Various Start Ups And MNC's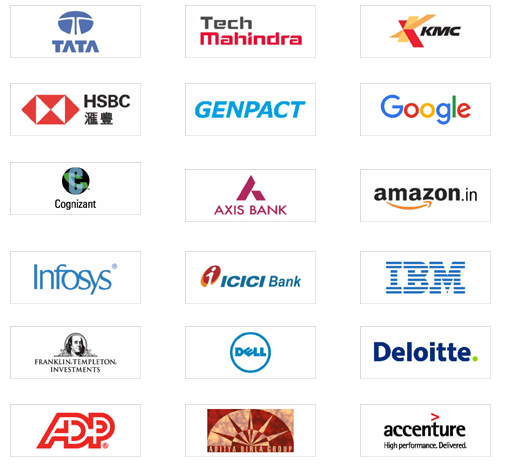 Queries, Feedback  & Assistance