If you have a "WordPress" website and a business owner who understands the importance of online presence and a bit of knowledge on SEO you should be reading this.
Thanks to WordPress plugins which made the job easier especially for SEO's who can't do every action manually which is time consuming instead WP plugins help them to optimize their website quickly with one single plugin activation and without any knowledge on coding or programming.
I hope everyone who uses WordPress will be aware of Yoast SEO plugin which is basically does the optimization for your website with features like meta titles, descriptions, focus keywords, tracking implementations and many others. It's a user-friendly plugin which comes in free and paid options.
Having said that Yoast SEO is the most preferable plugin for SEO's, we also recommend you have a look at other plugins which are alternative to Yoast SEO. You must try using these plugins to know how they work and what extra features do we have compared to Yoast SEO.
Below are the 7 alternative plugins to Yoast SEO.
Rank Math
Source: https://wordpress.org/plugins/seo-by-rank-math/
Rank Math is also known has "The Swiss Army Knife of WordPress SEO" because of its powerful features, smart automation which gives you the power control of an SEO team with just few clicks. If you can't invest time doing SEO then it's Rank Math which can take the control of all your needs.
Features in Rank Match Plugin:
Easy Setup Wizard for WordPress SEO
14 Types of Rick Snippets
5 Focus Keywords
Search Console Integration
Track keyword rankings in Google
Easy pre-selected configuration settings
Integrated LSI Keyword tool
Add overlay icons on social media
Advanced SEO analysis tool
Local SEO tool
Unlike Yoast SEO, Rank Math has lots of features which you might not be aware of and which could your website gain more visibility in search. Rank Math is worth plugin if you give it a try!
2. SEO Press
Source: https://wordpress.org/plugins/wp-seopress/
SEO press is also a powerful plugin to optimize your website for SEO. It has features which can help you create breadcrumbs, optimize your content for search engine, add schema markups, 301 redirection and much more.
SEO Press has options for free and paid upgrades, the paid version will cost you $39 a year! Which of course has more features compared to the free version.
Features in SEO Press Plugin:
Quick Installation wizard
Google Knowledge Graph
Manage Meta titles and descriptions
Build your custom XML and HTML Sitemaps
Content analysis for search engines
WordPress users have rated this plugin 4.9/5
3. All in one SEO Pack
Source: https://wordpress.org/plugins/all-in-one-seo-pack/
All in one SEO Pack is widely used by WordPress users who are not comfortable using Yoast SEO plugin. It's easy to use and has advanced features. The plugin was developed in 2007 and it is one of the all time most downloaded plugins in WordPress.
Features in All in one SEO Pack:
Google AMP Implementation
Sitemap Support tool
Google Analytics tracking tool
SEO integration for ecommerce sites (Free)
Generates Meta Tags automatically
It's a great plugin to have in your WordPress Dashboard.
4. SEOPressor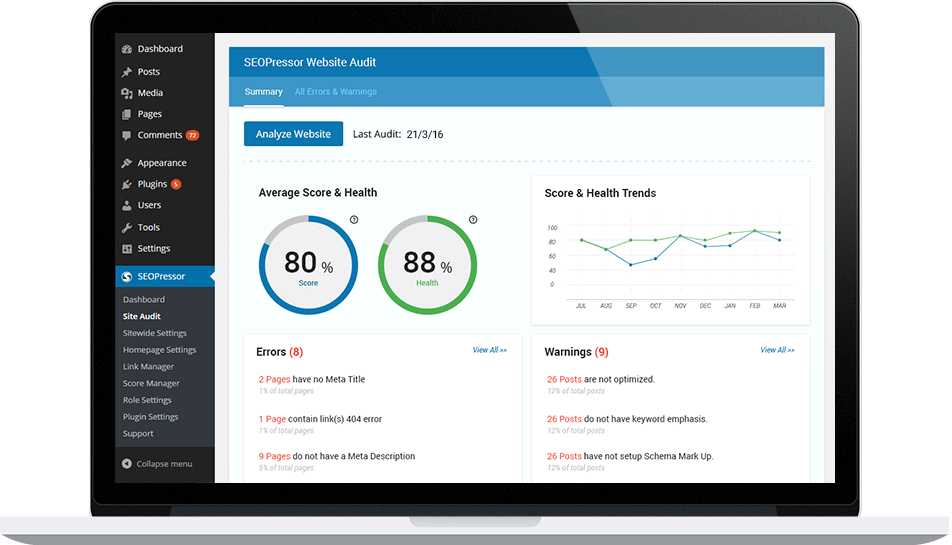 Source: https://seopressor.com/
SEOPressor is a paid version plugin they don't offer free version. You can buy the paid version for just $9 per month.
SEOPressor gives you insights on your website's SEO health with all the valid data at one place called Dashboard where you can find all the insights with clear clarity.
What makes WordPress users activate the SEOPressor plugin is that their brand-new algorithm which is formulated based on big data analysis of more than 3 billion rows of data. This algorithm helps to push your keywords at the top SERPs.
Features in SEOPressor:
Optimize upto Top 3 Keywords
On-page seo suggestions
SematiQ LSI Keywords
Maximize Machine readability
Crush the competitors
SEOPressor is another great plugin to optimize your keywords and website.
The SEO Framework
Source: https://wordpress.org/plugins/autodescription/
The name itself suggest it's a complete framework for all your SEO needs on your website.
SEO framework has an AI built in that work automatically to optimize your pages which in turn saves your workload. You don't bother writing meta tags this plugin will automatically generate titles and descriptions that are recognized by Google.
Features in The SEO Framework:
Built in AI makes this plugin smarter than others
Improves your search presence
Optimizes your meta data
Respects your privacy
Uses best practices according to the guidelines
Premium SEO Pack
Source: https://wordpress.org/plugins/premium-seo-pack-light-version/
Premium seo pack is the newest plugin in the market but has great features comparatively to other plugins which you need to look out for.
Premium SEO pack comes with free and paid options. In paid as usual you can get extra features which will benefit you from a free version.
Features in Premium SEO Pack:
Multiple Focus Keywords
Mass Optimization
Local business shortcodes
404 error pages monitoring
Slug optimizer
WP Meta SEO
Source: https://wordpress.org/plugins/wp-meta-seo/
WP Meta SEO is a complete package for beginners and those who don't understand SEO. This plugin fulfills the gap between the company and clients struggling with SEO. This plugin figure outs the major problems your website has and help you to fix the issues.
If your company doesn't have any SEO resource then don't worry WP Meta SEO is one plugin which does all the needy what an SEO can do sitting in the office.
Features in WP Meta SEO:
Edit website meta data in single view
Fix HTML resizing in content
404 error redirections
Generate XML and HTML Sitemaps
SEO Content checker
If you are a WordPress user then you should be trying these plugins.
If you are already using any of these plugins for your websites then please leave a comment and let us know which plugin you have been using and how effective they are for your website.