Google AdWords qualification authenticates your PPC expertise and gives you additional credibility. That can open doors, letting you put your knowledge and imagination to work to expand your career. You'll be more proficient at handling your own in-house PPC campaigns, or you can be the new expert at work.
Thorough preparation is essential in order to succeed with the AdWords exams. Putting in the time and effort will truly pay off when you know that you have studied and you achieve your desired grade.
Partners offer three AdWords certification exams and one advanced certification exam. Here are more details about each exam:
Fundamentals: This exam covers the most basic aspects of AdWords and online advertising, including account management and the value of search advertising.
Advanced Search: This exam covers intermediate-to-advanced best practices for managing AdWords campaigns.
Advanced Display: This exam covers intermediate-to-advanced best practices for advertising on YouTube and the Google Display Network.
Video Advertising: This exam covers basic and advanced YouTube and Google Display Network concepts, including topics such as ad formats, targeting, and reporting.
To get certified in AdWords, you'll need to pass the AdWords Fundamentals exam and one of the advanced exams — either the Advanced Search or Advanced Display exam.
To get the Video Advertising advanced certification, you'll need to get certified in AdWords first and then pass the Video Advertising exam.
PASSING SCORES
 The score that you need to get to pass is different for each exam.
| | |
| --- | --- |
| Fundamentals Exam | 85% |
| Advanced Search Exam | 80% |
| Advanced Display Exam | 70% |
| Video Advertising Exam | 85% |
Retaking the exams
If you don't pass an exam, you can retake it in seven days. Try using the Help Center's exam study guides to increase your chances of passing.
Staying certified
After you pass an exam, you'll need to take it after some time has passed. The time varies for each exam.
| | |
| --- | --- |
| Fundamentals | Every 2 years |
| Advanced Search | Every 1 year |
| Advanced Display | Every 1 year |
| Video Advertising | Every 1 year |
Please note that you can sit for the Google AdWords exams online, whenever you want. There is no scheduled exam date upon signing up for the programme. You just sit for it when you're ready. The flexibility is very convenient. However, it's important to remain focused with the study material. We recommend deciding on a study schedule and sticking to it.
Few Guidelines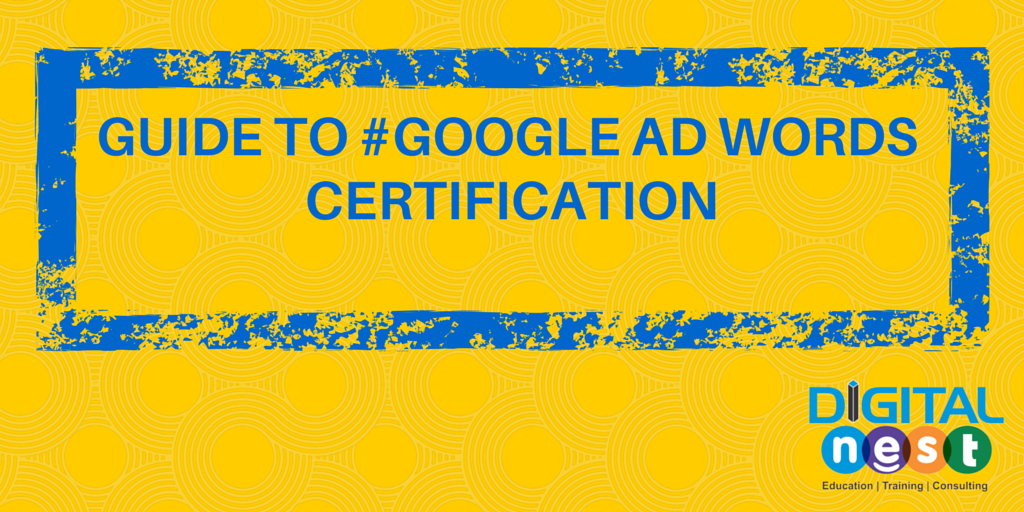 Take the exam in a quiet, comfortable location. 113 questions is a lot to read through, so make sure you are taking the exam where you won't get distracted.
You cannot open another browser during the exam. The AdWords exam will open up in its own browser page and you cannot access any other part of your computer until the test has ended. This means you can't look up answers or chat on your computer while taking the exam.
You can mark questions for review and come back to them later. If I didn't know the answer to a question within about a minute, I marked it for review and moved on to the next. This way I answered all the ones I knew and could spend time going through the more difficult ones without stressing about how many questions I still had left. With the 3 hour exam limit I had more than enough time to go through all of the questions I had marked.
Some questions have many right answers, but only one best answer. Working with PPC, you know there are multiple ways to solve a problem and improve performance so there were some questions where I could identify multiple "right" answers. However, Google wants you to choose the "best" answer based on the material from the Learning Center.
Note making is essential: We are all individual, we all absorb information at different rates and through different methods. Take some time to think about how you best absorb information, whether you make notes, draw diagrams or flowcharts to remember layout and processes or stick post it notes around your home/office etc..
Time Management: The amount of time you'll need to prepare depends on your current experience. If you are fairly new to the industry, give yourself at least a couple of weeks to prepare. There is no point in paying to take the test too early if you are not ready.
Practice: You can set up a dummy account just for practice. Experience will give you a leg up, because you will have real life examples to help you retain the information. For advanced topics covered in the analytics test, this is particularly important.
Know your tests: Don't wait until test day to read the test guidelines. Time can be more or less of an issue depending on what exam you are taking. The Google AdWords Exam gives you two hours to answer 120 questions. That is one question every minute. The Analytics exam, however, currently lets you pause the test – you can actually pause your test for multiple days. Know your time restrictions before you start so you know when to stay focused on the questions and not the stopwatch.
Skip Questions:  Because important topics are usually covered in more than one question, if you don't know the answer, skip it and see if there is a different question later on that helps jog your memory. Many of the tests will flag which questions you skipped so you can always go back at the end of the test. Having answered the rest of the questions, you'll also know how much time you have left to spend thinking about your answer to those tough few.
Study one section at a time. You don't necessarily have to learn everything at once. You can start at the beginning and work your way through the learning material with certification in mind, or pick and choose study topics based on your specific needs and interests.
To earn your certificate, you'll have to pass the Advertising Fundamentals exam plus one of these three advanced tests:
Search Advertising
Display Advertising
Reporting & Analytics
Pay particular attention to these competencies:
Make sure you fully understand billing options and mechanics, Display Network and search targeting details, the various bid management and advertising options solutions, best practices for ad creation and the editorial guidelines.
Know where to find information and reports in tabs.
Become comfortably familiar with the AdWords editor.
Watch the videos, which may cover information you won't find elsewhere.
Talk to others who've taken the test.
Last but not the least, reach out to friends or make new friends that can help you learn about AdWords and specifically about studying for the test. You'll find numerous online resources, including AdWords discussion groups. Linked In has one, of course, and there are several Google-based groups.
Joining these communities can also help you in your work, with friendly, knowledgeable advice for ongoing AdWords campaign design and management.
//