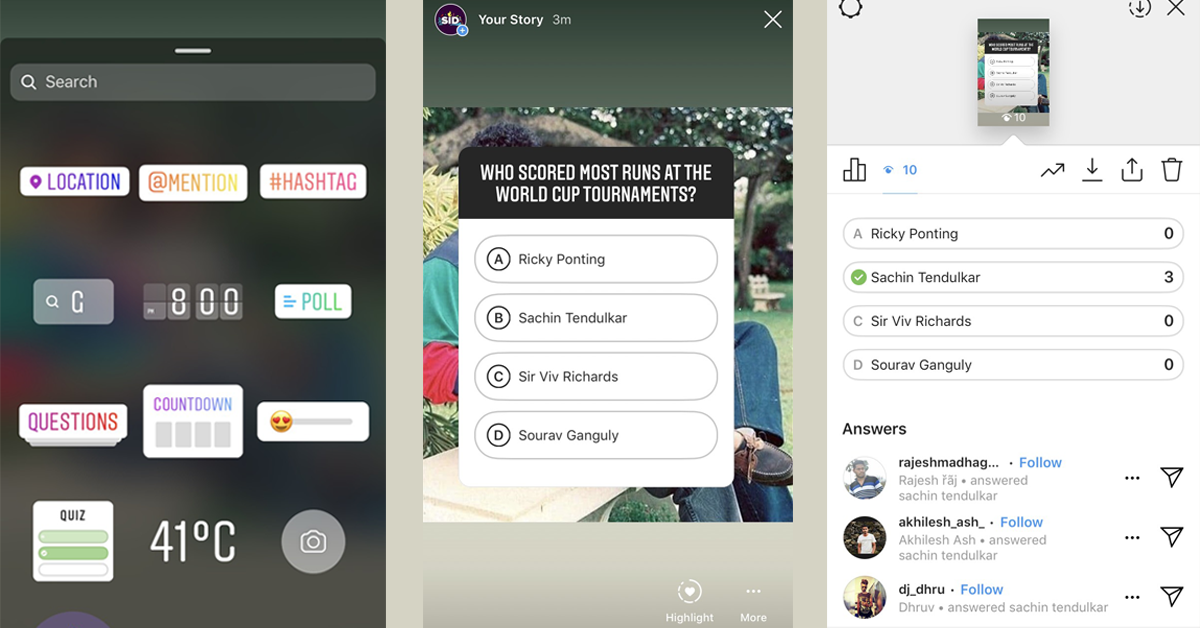 Another interesting roll out from Instagram for its users which is not only interesting but also increase engagement for business who are on Instagram and ready to use it effectively.
Yesterday, Instagram has officially launched Quiz Stickers to its stories gallery which allows users to create multiple choice questions based on their interest if it's for their personal use and marketers can use it for asking questions based on the subject matter to their followers which keeps the users interesting and increases engagement drastically.
Quiz Stickers can be used if you have a story to share in Instagram along with features like poll questions, interactive stickers and emoji sliders.
Users can add quiz stickers to their stories by selecting it from the sticker tray after taking a photo or video.
Instagram users can use quiz stickers from the stories gallery after taking a photo or video which is mandatory for this option to appear.
Unlike a Poll in Quiz Stickers you can add four possible answers to your questions which gives options to your user to select. You can also share it as a post if required.
It is similar to a poll & story when it comes to viewing a story insight when a user interacts or answers your quiz questions you can see their insights in the story viewers list which is a good option to know how your quiz is working.
Using Quiz Stickers will not only increase your engagement but also ranks your stories higher in the user's story carousel which is a good way to increase your Instagram profile identity. Posting regular stories than just sharing content post helps in increasing followers to your profile if the interaction is good.
Quiz Stickers are most useful for businesses to interact with their users by asking questions related to their business will certainly educates their followers and help discover you much more in terms of who your target audience are.
It's an interesting roll out as I said earlier, you need to experiment it to know how it's working for your business and your followers so that you can start using it more effectively!