Full Stack Development Training In Hyderabad, India
In the last 3 years, India has seen a 45% increase in demand for coding jobs. Learn In-demand courses from leading experts in the field with comfortable options such as E-Learning, Classroom Training, and Online Training. Get 100% Placement Assistance.

  4.2 Rating   |  1035+ Enrolments   |   Classroom & Online
Full Stack Development Training In Hyderabad, India
If you are someone, who wants to accelerate their career in IT, then this is the course for you, work on multiple domains and become an IT Ninja, learn front-end (client-side) and back-end (server-side) development. Be industry-ready in this high-growth market. Get an opportunity to work on live projects to polish your skills. Get 100% placement assistance.

  4.5 Rating
1523+ Enrollments   |   Classroom & Online
Key Highlights of Full Stack Development Course

   100+ Learning Hours

  Course is curated by real time industry                    experts

  Learn Using Advanced LMS

  Trainers with 15+ years of experience

  State of the art training center

  Dedicated placement team

  100% assured placement Assistance

  28+ Industry Relevant Skills

  Trainers with 12 + Experience

Backup Classes, Videos

  0% EMI Option Available

Guest Lectures from subject Matter Experts
Learn From Experts The Most Advanced Full Stack Development  Program In India
Full Stack Development Course Description
Microsoft Azure is the preferred platform for over 95% of Fortune 50 companies. Cloud Security is the Future. Therefore, Microsoft Azure tends to be one of the important courses to learn in the technological field. Microsoft Azure witnesses sharp revenue gains in Cloud. To keep up with the current market and industries who are looking out for Cloud Technologies in order to progress the tasks with automation and rapid technologies. We at Digital Nest commenced a carefully tailored Microsoft Azure Certification in Hyderabad.
Start your dream career today at Digital Nest, Hyderabad by enrolling in our Microsoft Azure Training Program and enhance your cloud computing skills and measure your ability to manage technical tasks with Microsoft Azure. Do you know the importance of Microsoft Azure Certification? Singapore Telco offers 56 edge Computing on Microsoft Azure. SAS makes Vita available on Microsoft Azure. NHS migrates millions of mailboxes to Microsoft Azure cloud.
Not just that, We at Digital Nest, Hyderabad have a dedicated placement team and will guide you in the right direction and help you land in best of best Microsoft Azure opportunities not only in Hyderabad and India but worldwide. We also provide required placement assistance followed by Certification and proper Microsoft Azure Training. Explore the most sought out job roles with us by taking up our best of best Cloud Computing Services, Microsoft Azure Training.
From the ground curriculum to attending the Interview, we will assist you in your placement pathway. Yes you heard it right, join the Microsoft Azure Certification at Digital Nest and reward your career with the best of best placements in Microsoft Azure field. 
We promise you the best of best Microsoft Azure Training as our Instructors hail from big MNCs and well revered Institutions and have an abundant knowledge over the Cloud area. All these aspects make our Microsoft Azure Certification, the best and top most Institute for taking up Microsoft Azure Training in Hyderabad, India. In order to expand our Cloud journey, we commenced E-learning as well. Now, people from any corner can access our Microsoft Azure Training in Hyderabad, India. 
Cloud Migration promises to be a journey of Transformation for future competency and agility. Microsoft Azure is an ever-expanding set of cloud services to help an organization to meet their business challenges. Join our Microsoft Azure Training in Hyderabad at Digital Nest and adopt the Smart cloud approach and embrace an intelligent future.
Microsoft Azure Certification meddles with curriculum which includes developing cloud-native apps with security at start. Implementation of Migrate and Modernize database on Azure.  Pursuing the Microsoft Azure Certification at Digital Nest, Hyderabad offers you a gamut of Application and Modernization Services under Microsoft Azure training. We have acquired core expertise across varied verticals in delivering customized application modernization roadmaps and journeys.
Our infrastructure motivates you to learn and explore more. From doodles to posters, everything is facilitated for our students and quality learning. We are ready to design your future in the best ways possible, are you ready to enhance your career path? Join the Microsoft Azure Certification without any delay and let's strive together for your bright future.
We encourage our students to actively participate and implement their Business ideas and qualified guidance is assured by our Microsoft Azure Trainers. We operate in three learning centers viz. Ameerpet, Panjagutta and Madhapur in Hyderabad, India. Our Corporate office is based in Madhapur, Hitech City, India. 
Along With Microsoft Azure Training, we also commenced various courses like Data Science Training, Big Data Analytics, Digital Marketing Training, AWS Training, DevOps Training, Full stack Python Training, RPA Training & Salesforce Training and Post graduate diploma programs – PGP in Digital Marketing, PGP in Data Science and PGP in Cloud Computing in Madhapur Branch at Hyderabad, India
Microsoft Azure Course Curriculum
1. Azure Introduction
Azure Introduction
Creating Azure Free Account
Understanding Azure Subscriptions and Roles
Understanding Azure Portals
ASM (Azure Service Manager) (Deprecated)
ARM (Azure Resource Manager)
2. Building Blocks (IAAS)
Compute
Introduction to Virtual Machines
Compute tiers
pricing
Different ways to deploy virtual machines
Configuring and managing azure virtual machines
Advanced concepts on Azure virtual machines
Different types VM images
Custom images
VM disks
Availability sets
Availability Zones
Azure Scale sets
Assigning static Ips
Network
Introduction to Azure Virtual Networks
Creating and Managing Azure virtual networks
Understanding Network ACLs and Network Security groups
Understanding Azure DIP, VIP and PIP
Azure VNET to VNET
Azure Point to Site
Azure Site to Site
Azure ExpressRoute
Storage
Introduction Azure Storage
Understanding Different Azure Storage replication techniques
LRS (Locally Redundant Storage)
ZRS (Zone Redundant Storage)
GRS (Geo Redundant Storage)
RA-GRS (Read Only – Geo Redundant Storage)
Different types of Azure Storage options
Azure File Storage
Azure Blob Storage
Azure Queue Storage
Azure Table Storage
Advanced Concepts on Azure Storage
Storage Access Keys
Storage Access Signatures
Use cases for Azure File, Table, Queue and Blob storage
Different types of Blobs
Understanding Azure Managed Storage

Identity and Access management(Azure Active Directory)

Active Directory Fundaments
Understanding Azure Active Directory
OAuth
Multifactor Authentication
Understanding Differences Between Traditional AD and Azure AD
Understanding Azure AD integration
Azure AD data Sync
Role based Access Control
3. PAAS
Azure WebApps

Introduction to Azure Web Apps
Understanding Web App Tiers and Pricing
Understanding App Service Plans
Understanding Different Ways to deploy Web Apps
Deployment pipeline
Scaling Web Apps
Supported Languages
Security and Monitoring
Understanding Web jobs
Azure Logic Apps
Azure API Apps

Azure SQL Database

Introduction Azure SQL Database as a service
Comparing Azure SQL and Traditional SQL
Benefits of Azure SQL database
Advanced capabilities
Backup options
Scaling Azure SQL Database
Security
Pricing
Azure Service Bus
Introduction to Azure Service Bus
Service Bus Queues
Service Bus Topics
Service Hub Relays
Event Hubs
Azure Traffic Manager
Introduction Azure Traffic Manager
Understanding Different traffic routing methods
Priority method (Failover method)
Weighted method (Round-robin method)
Performance method (Performance method)
Azure CDN
Introduction Azure CDN
Understanding Azure CDN
Setting up Azure CDN
Other Azure Services
Azure SAAS
Azure Backup
Azure Load balancer
Azure Site Recovery
Azure PowerShell
Azure CLI
Azure Cloud Services
Azure Automation
Azure Keyvault
Microsoft Azure Training Modes
We have Physical instructor-led classes happening at Panjagutta and Hitech City Branches, Hyderabad
We teach Courses online Using tools like zoom, Microsoft Teams
How E-Learning Works?
We have recorded videos of the trainer . This videos were recorded while taking the class. We kept in mind that student should feel the classroom environment while training. we request you to take a trail session. if you are satisfied you can take up the course.
For trail session and more information you can contact digital nest sales team on +91-8088998664 or write us at info@digitalnest.in
We offer special Training for Companies we first understand the company, its services and we will diagnose the present marketing practices and then we prepare a customized curriculum that suits to the needs of that particular company.
For Corporate training you can Reach our Sales Team at +91-8088998664 or you can also write to us at info@digitalnest.in
FAQ's Of Microsoft Azure Training
What are the course pre-requisites?

Having hold in C sharp .Net or VB .Net programming, familiarity with SQL server concepts and basic knowledge in ASP .NET is required in Microsoft Azure course training in Hyderabad. Though we also consider students who do not belong to the programming background.

Who can attend Windows Azure Course?

This course can benefit people from all backgrounds but software professionals, Cloud technology based professionals and candidates who want to make a career in cloud computing with Microsoft Azure, should definitely attend Microsoft Azure Training in Hyderabad.

How can Windows Azure course elevate the career opportunities?

Microsoft Azure training in Hyderabad provides in-depth knowledge about public cloud computing. This is the most used technology these days and learning Windows Azure course from Digital Nest can help you achieve your goals and dreams through its impeccable training program.

Why Microsoft Azure course training in Hyderabad?

Digital nest offers the Best Microsoft Azure training course in Madhapur Hyderabad with teaching faculties from reputed institutions of the country. The goal of our coaching institute is to ensure a great career graph for the students and enrich their knowledge skills through our Best Windows Azure Training in Hyderabad. After learning this course from our institute, students will find numerous career opportunities in front of them where they can use their skills to help the companies enhance their working capabilities.
APPLY NOW
Get details In your Inbox and a call back from our course consultants
Get Course Completion Certificate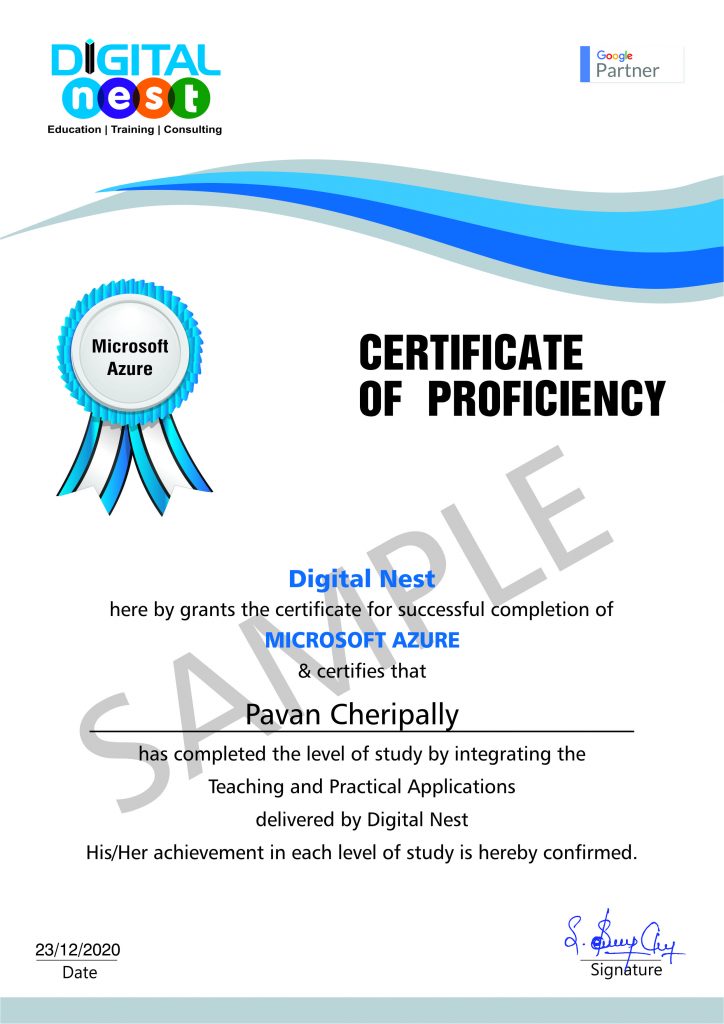 Our
Alumni Testimonials
Rated Avg 4.5*  Out Of 5 by 2000+ Learners



Attended Digital Nest's Azure Program. The trainer was well experienced & knowledgeable. Good infrastructure. The program coordinators are always there if you want to reach out for any help. Multiple revision classes to help you get clarity on concepts. Can say Complete value for money.
Wanted to take up Cloud Computing Courses and checked multiple platforms like UpGrad, Great Lakes. Was very Expensive. Glad that I found Digital Nest offering similar course at best price. Checked their syllabus & found it on par with other big names and joined. In retrospect, one of the best decisions I took. The trainers are friendly & approachable for any doubts and help. 
Students , Working Professionals & Business Owners From Various Start Ups And MNC's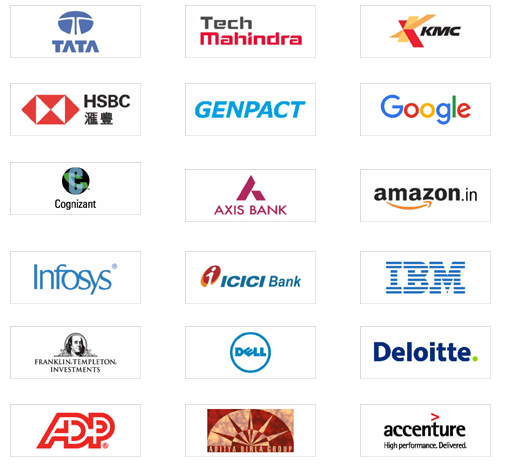 Queries, Feedback  & Assistance