RPA CourseTraining In Hyderabad, India
Digital Nest institute at hyderabad offers rpa courses with placement and certification . Rpa Modules include UI Path Course , Blue Prism Course and Automation Anywhere . This courses are offered by the best industry experts 

  4.2 Rating   |  1012+ Enrolments   |   Classroom & Online
RPA Course Training In Hyderabad, India
tal Nest institute at hyderabad offers rpa courses with placement and certification . Rpa Modules include UI Path Course , Blue Prism Course and Automation Anywhere . This courses are offered by the best industry experts

  4.5 Rating
1523+ Enrollments   |   Classroom & Online
Key Highlights of RPA UI Path Course

The course is carefully designed and curated by real-time RPA industry experts

Our RPA Certification Course Trainers hold 10+ years of experience

100% assured placement Assistance

State of the art training center

Dedicated placement team

Case study Approach

Relevant Real-time examples

Exercises, assignments, and handouts are given after every session

Certificate after completion of the course

Lab facility after class hours is available 

Trainer support after completion of the course

Dedicated Batch Whatsapp group with the trainer and Digital Nest Admin for a more effortless flow of communication. 
Learn From Experts The Most Advanced RPA Program In India
RPA Tools
Few of the RPA tools are :
Blue Prism

UI Path

Automation Anywhere

Redwood

Workfusion 

Pega

Contexter




Advantages of RPA course in Hyderabad

Enhance the customer experience.

Facilitate better management.

Great job opportunities

Boosts your resume

highly scalable and accurate.
RPA UI Path Course Curriculum
1.Introduction to RPA - UI Path
What is RPA?
RPA Evolution
Scope of RPA
How RPA Works?
Advantages of RPA
Tools Available in Market
Why UI path?
UI Path Product Suite
Introduction to UI Path
About Automation Projects
UI Path User Interface
Managing Activities Package
Introduction to Automation Debuggging
Connecting to Source Control System
About Third Party Extensions
Variables and Data Types
Introduction to Variables
Types of Variables
Text Variables
True or false variables
Generic Variables
Date and Time Variables
Number Variables
Array Variables
Data Table Variables
Dictionary and Lists etc.,
Scope
Naming Best Practices
Introduction to Arguments
Types of Arguments
Control Flow
Introduction to Control Flow
If/Else Statements
Loops
While
Do While
For Each
Flow Switch and Flow Decision Activities
Recorders
Introduction to Recorders
Types of Recorders
Advanced UI Interaction & Common Properties of Activities
Continue on Error
Delay Before
Delay After
Input Pane
Output Pane
Selector
Wait for Ready
Time Out
Interactive Methods
Default
Simulate
Send Windows Messages
Data Manipulation
Data Format Using String Functions
Data Format Using Date Time Functions
Generic Data Format
Selectors
Introduction to Selectors
Defining Stable Selector
Wildcards
Use of Variable in Selectors
Scraping Methods
Screen Scraping Wizard
Scraping Methods
Full Text
Native
OCR
Data Scraping Wizard
Image and Text Automation
Citrix Recorder
Image Automation
Text Automation
Excel and Data Tables
Introduction to Excel Activities
Data Table Manipulators
Advance Operations
PDF Automation
Introduction to PDF Automation
Activities
Email Automation
Introduction to Email Automation
Outlook
Gmail
Exchange
SMTP
Debugging and Exception Handling
Introduction to Exception Handling
Activities used for Exception Handling
Try Catch
Throw
Re throw Logging Mechanism
Project Organization
Best Practices
Introduction to RE Framework
Orchestrator
Introduction to Orchestrator
Orchestrator
Provision a Robot
Publish a Workflow
Environments
Version Control
Orchestrator
Orchestrator
Queues
Activities for Queues
Orchestrator
Projects & Assignments
2. BluePrism
Installation and Configuration of Blueprism
Overview of Blueprism tool
Overview on Object Process Studios
Differences B/W Object and Process
Brief explanation on Stages in Process Studio
Build couple of scenarios IN process Studio using available stages
Generate PAN Number
Define Emp Hike
Object Studio
Build reusable object for calculator
(Application Modler, Spy Modes, Attribute Selection)
Build Process using Re-usable objects
Difference B/W VBO's Internal Business Objects
Inputs and Outputs
MS Excel VBO
Utility Manipulation Collection VBO
Data SQL Server VBO
Case Management (Work Queues)
Mark Completed and Mark Exception
Tags, Priorities, Defer until attempts
Generate Work Que Report
Exception Handling (Recovery Mode, Exception Bubbling, Retry Logic)
Outlook Automation
sMTP/POP3 Server Config using Gmail
How to use Dynamic Attributes
Data OLEDB VBO
Webservices concept
How to Consume SOAP and REST API's
How to Expose BP process and Objects as Web API's
Environment and Session variables
Environment Locking
Session Management
Scheduler (Custom Calender's)
Credential Management
Login Agent
How to use Code Stage and when to use it
Release Manager
Global Send keys and Events
Multi Bot Architecture
Multi team Environment
SAP Automation
Surface Automation( Region Mode)
Project Explanation
Resume Preparation
Interview Scenarios(Real time challenges)
3. Introduction to Automation Anywhere
Client Dashboard
Folders Panel
Task List Panel
Features Panel
Task Relevant Activities Panel
Preparing and Installing the Automation Anywhere Client Recording, Editing and Running Tasks
Recording an Automated Task
Creating a Shortcut for a Task on Desktop
Running Your Recorded Tasks
Stopping a Running Task
Adding Properties to a Task
Web Recorder and Object Recorder
Extracting Regular Web Data
Extracting Pattern-Based Data
Extracting Table Data
Using the Standard Recorder
Using the Object Recorder
Task Creation and Using of Task list
Run  Edit
Upload Task
Copy Task
Rename
Locate on Disk
Send To: Send
Create EXE
Delete
Viewing and Setting General Properties
General Properties – An Overview
Repeating a Task
Adjusting the Speed of a Task
Sending Email Notifications for a Task
Setting up Hotkeys for a Task
Setting Security Features for a Task
Scheduling Tasks to Run
Scheduling Tasks Using the Scheduler
Using the Schedule Manager
Scheduling Tasks Using Triggers
Adding Triggers to a Task
Using the Trigger Manager
Debugging Tasks
Task Editor Components
Commands panel
Task Actions List
Error View and Variable Manager Panel
Action buttons
Filters
Variable Manager
Using Filters in the Task Editor
Automation Anywhere Commands
Active Directory Command
App Integration Command
Clipboard Command
Comment Command
Database Command
Delay/Wait Commands
Email Automation Command
Error Handling Command
Excel Command
File and Folder Commands
FTP/SFTP Command
IF/ELSE Command
Image Recognition Command
Insert Keystrokes Command
Internet Connection Command
Launch Website Command
Log-to-File Command
Loop Command
Manage Windows Controls Command
Message Box Command
Object Cloning Command
OCR Command
Open Program/File Command
Pause Command
PDF Integration Command
PGP Command
Play Sound Command
Printer Settings Command
Prompt Command
Read from CSV/Text Command
Run Script Command
Run Task Command
Screen Capture Command
Send Email Command
Services Command
SNMP Command
String Operation Command
System Command
Terminal Emulator Command
Variable Operation Command
Web Recorder Command
Web Service Command
Windows Actions Command
XML Command
Active Directory Command
Change Window Title Command
Delay Command
FTP (File Transfer Protocol)/SFTP (Secure FTP) Command
Use of Variables
Passing a Variable between Running Tasks
Using Variables with IF-Else and LOOP Commands
Types of Variables
Local (User) Variables
Pre-Defined User Variables
System Variables
Working with Variables
Using the Variable Manager
Creating a New Local Variable
Editing a Variable
Copying a Variable
Deleting a Variable
Adding Variables to a Task
Variable Operation: Assign
Variable Operation: Assign
Reading Variables from an External File
Watching Variables
Using Variables to Create Timestamps for Your Files
Passing a Variable to a VB Script
Customizing an Automation Anywhere Client
Using the Auto Login Option
Setting up Email Notifications
Defining Client Hotkeys
Setting View Options
Using Advanced Settings
Using Run-Time Settings
Using ROI Settings
Using Server Settings
Customizing the Task List View
Running Tasks in Parallel Using the Multi Task Designer
Using Snap Point
Using the Report Designer
Running Reports
Saving Reports
Sending Email Notifications for Reports
Scheduling a Report to Run
Triggering a Report to Run
Viewing a Report Graphically
Using the Workflow Designer
Using the ROI Calculator
Introduction of Control Room Control Room Overview
Dashboard
Repository Manager
Operations Room
Users Management
Audit Trial
Task Schedules
Security
Clients
Credential Manager
App Management
Introduction of IQ Bots, Meta Bots & Task Bots. IQ Bots, Meta Bots & Task Bots overview
Creating IQ Bots
Creating Meta Bots
Creating Task Bot to consume Meta Bot & IQ Bot.
RPA UI Path Course Description
 Have you heard of Elon Musk's Tesla Bot yet? On August 19, 2021 (Tesla AI Day), Optimus a humanoid Tesla bot was introduced by CEO Elon Musk wherein he stated, Tesla would build a prototype by 2022. Are you wondering and going bonkers over for this transformation? Do you want to know how a miracle like this happens? Well, Robotic Process Automation (RPA) is the answer. 
Keeping such cutting-edge technology in mind, we at Digital Nest commenced the best of best RPA UI path Certification program in Hyderabad, Punjagutta and Ameerpet. Without any further delay, join our Certification program in Robotics Process Automation (RPA UI Path) and hone your skills at Digital Nest, Hyderabad, India
You want to know what makes Digital Nest the best Institute for RPA UI Path Training, here's the reason, you can discover our list of learning paths that offer high quality learning experiences to drive RPA skilling, upskilling and reskilling initiatives. Look no further, be a certified professional in RPA UI Path with the aid of Digital Nest, the top-notch training institute for learning and earning the RPA UI Path subject.
Improve your career opportunity to the maximum potential and know about your course. Kickstart your career in the IT Industry and let us, Digital Nest, Hyderabad, the best coaching center for RPA UI Path help you climb the career ladder.
We at Digital Nest, Hyderabad have a dedicated placement team and will guide you in the right direction and help you land in best of best  RPA UI Path opportunities not only in Hyderabad but also for other states, etc. We also provide required placement assistance followed by Certification and proper RPA UI Path Training. 
By taking up RPA UI Path Certification at Digital Nest, you can get into roles like RPA Developer, RPA Tester, RPA Business Analysts and can get a good amount of salary ranging from 5 lpa to 14 lpa. Irrespective of the background, anyone from any field can pursue RPA UI Path Certification and we at Digital Nest, Hyderabad being the best Institute for RPA UI Path will polish you into a professional.
 From the ground curriculum to attending the Interview, we will assist you in your placement pathway. Yes you heard it right, join the RPA UI Path Certification at Digital Nest and reward your career with the best of best placements.
As more organizations turn to integrate RPA in their businesses, it calls for professionals trained in the RPA and possess skills in automation and streamlining the business processes virtually. Through RPA training tools such as UI path, Blue Prism, and Automation Anywhere, you learn how to automate repetitive tasks, increase quality and accuracy, and build cost effective virtual processes with no human intervention. The RPA course trains on decreasing workload and increasing customer satisfaction with less to no errors.  
With all these and more benefits to the organizations, companies are hunting for professionals certified in the RPA certification course. This demand has pushed professionals and freshers alike to take up RPA training in Hyderabad.
Digital Nest thus took upon this opportunity to add the RPA training under the umbrella of other courses. We have seen a great demand for RPA training in the Madhapur branch and Punjagutta branch as well. 
RPA Field is growing at a rapid pace, the Tesla bot is coming and much more. I'm pretty sure, you remember the weird Will Smith movie about robots or Black Mirror AI, well even if you don't, Elon Musk does. The bot is provided for a non-automotive robotic utilization for the company's works on neural networks and its Dojo advanced Supercomputer. Ok, now let's not beat around the bush. Coming to the whole crux of the above mentioned information, we can sense the significance of RPA and AI. 
UI Path is a Robotic Process Automation (RPA tool). Utilized for Windows Desktop Automation. RPA, UI Path is used to automate boring repetitive tasks. RPA also eliminates human intervention with drag and drop functionality for all the activities. It is the simplest RPA tool.
To fall in the market wavelength, we at Digital Nest, Hyderabad the best and top most Training institute for RPA UI path Certification designed a curriculum  eloquently which would match RPA aspirants. For this reason, Digital Nest, Hyderabad bags the position of the best training institute for RPA in Hyderabad or to be more precise, India.
From increasing efficiencies to improving analytics and boosting scalability operations, RPA takes full blown advantage. You should definitely know the jaw-dropping facts about RPA. RPA is turning into a highly sought-after technology. RPA is the fastest growing segment in the global enterprise software arena. Advantages of RPA includes ensuring compliance, saving time and effort, improving customer experience with automation, elevating employees experience, etc
According to Research Analyst, Gartner, RPA market growth rate was a whooping 63% in 2019. With increase in more companies and their utilization of RPA technology, RPA market value can tweak up to 3 billion by 2022. RPA doesn't require any particular coding language. Businesses are welcoming RPA processes. In one annual survey conducted by Deloitte, they found that 53% of the survey respondents had already commenced their RPA methodology. McKinsey and Co suggested that around 45% of the tasks in a business can be automated.
Whether it is organizing bytes and bytes of data for different bank details or tracking the shipment across the globe, everything can be performed, monitored and improved with the help of RPA. RPA is going to rule the Finance sector, the vision of Banks is to have a bot every bank employee. 
RPA Course aims at making the learners familiar with the concepts of Robotic Process Automation (RPA) eliminates the need for human intervention for performing repetitive, less complex tasks.
We encourage our students to actively participate and implement their Business ideas and qualified guidance is assured by our RPA UI Path Trainers. We operate in three learning centers viz. Ameerpet, Panjagutta and Madhapur in Hyderabad, India. Our Corporate office is based in Madhapur, Hitech City, India. 
Before 2020, Training was pertaining to the classroom. But now everyone prefers online which is why, we at Digital Nest, Hyderabad came up with, Digital Nest will help for your career betterment with E-learning facility. It is a learning methodology utilizing technologies to access educational curriculum outside of a traditional classroom. 
Do you know that 96% of RPA Professionals are satisfied with their careers. Yes, you can also be one among them. Digital Nest platform synergizes the right talent with the right requirement and sees the quality manpower is constructively and appropriately channelized.
Along With RPA UI Path Training, we also commenced various courses like Data Science Training, Big Data Analytics, Microsoft Azure Training, AWS Training, DevOps Training, Full stack Python Training, Digital Marketing Training & Salesforce Training and Postgraduate diploma programs – PGP in Digital Marketing, PGP in Data Science and PGP in Cloud Computing in Madhapur Branch at Hyderabad, India
RPA UI Path Training Modes
We have Physical instructor led classes happening at Panjagutta and Hitech City Branches , Hyderabad
We teach Courses online Using tools like zoom, Microsoft Teams
How E-Learning Works?
We have recorded videos of the trainer . This videos were recorded while taking the class. We kept in mind that student should feel the classroom environment while training. we request you to take a trail session. if you are satisfied you can take up the course.
For trail session and more information you can contact digital nest sales team on +91-8088998664 or write us at info@digitalnest.in
We offer special Training for Companies we first understand the company, its services and we will diagnose the present marketing practices and then we prepare a customized curriculum that suits to the needs of that particular company.
For Corporate training you can Reach our Sales Team at +91-8088998664 or you can also write to us at info@digitalnest.in
FAQ's Of RPA UI Path Training
Who can learn RPA ( Robotic Process Automation )?

Any graduate or postgraduate who is passionate about making machines as humans using analytical and logical skills would be the right candidate for the RPA course. B.tech/BE/BBA/MBA/MSc Comp/ Stats/Maths/BSC Comp/Maths/PGDM People working in software or decision-making environment can also opt for this course, like testing engineers, Developers, product managers, sales and branding managers, strategy managers.

What are the RPA Certification course pre-requisites?

The good part about this course is there is nothing specific which you should be skilled at. RPA training in Hyderabad caters to students from different technical backgrounds, and yes, if you are from a Robotics background, you will have an added advantage.

Why RPA course training in Hyderabad?

Digital nest offers the Best RPA training course in Madhapur Hyderabad, with faculties from reputed institutions and working in MNCs across the country. The goal of our coaching institute is to ensure a great career graph for the students and enrich their knowledge skills through our Best RPA Training in Hyderabad

The RPA certification course trainers are industry leading experts who have 10+ years of experience working with multinational companies. The trainers are the backbone of RPA training. The curriculum is curated, keeping in mind any student who learns RPA course must crack the interviews and be innovative in solving real time challenges faced by companies using RPA technologies.

What packages does an RPA student get?

As per the research conducted by the Digital Nest team in Hyderabad and various cities across India and our previous students who got placed in the RPA department, we would say that, on average, freshers would get between 3.2 L.P.A to 6 L.P.A and experienced people can get up to 20 Lakhs per annum.

How is the demand for the RPA course?

There is a massive demand for RPA as we can see the entire world is revolving around the data and automations. To cut down the cost and give precise and accurate information to the customers and solve RPA professionals solve the challenges faced by any company. That's why every organization is looking forward to hiring RPA experts.

What are the timings of the RPA course?

As the expert RPA faculty are real-time working professionals, we keep their timings in mind. Digital Nest, at Hyderabad, has decided to run the classes on weekends, i.e., Sat and Sunday, based on demand and supply; we also run batches on weekdays.

Do you provide placements?

Yes! We provide Assured Placement Assistance. We have a dedicated placement officer at Digital Nest who makes sure that students are getting placements alerts. We also call companies to our academy to hire our RPA trainees.

Do you teach on Real-time Projects?

Yes! We Do. Our faculty is experts working in MNC's, So they get their Projects showcased in the class. We also give handouts and exercises so that Digital Nest students who got trained in RPA can solve the interview questions and contribute the innovative concepts of the RPA industry.

What is the duration of the Course?

Typically the duration of RPA training would last for 2 to 2 and a half months. We have designed a curriculum that is very comprehensive in Hyderabad.

How many hours each class consists?

Weekend batches at Digital Nest in Hyderabad would last 4 hours with series of breaks in between and weekdays class would last for 2 hrs.

What are the course pre-requisites?

The good part about this course is there is nothing specific which you should be skilled at. Robotics training in Hyderabad caters to students from different technical backgrounds, and yes, if you are from a Robotics background, you will have an added advantage.

Who can attend the RPA course?

The course is best suited for people who aspire for a career in robotics. RPA Training in Hyderabad will help them to learn to automate the business processes using various RPA tools. 

How can this course elevate my career path?

We assure you of becoming confident after attending the Robotics Tools training in Hyderabad. This course will help you enhance your subject skills and let you understand business models for Robotics Process Automation. You can drive the company seeing the future prospects to boost revenues. Various RPA solutions can be devised along with an efficient ROI to ensure lasting results.
Get Course Completion Certificate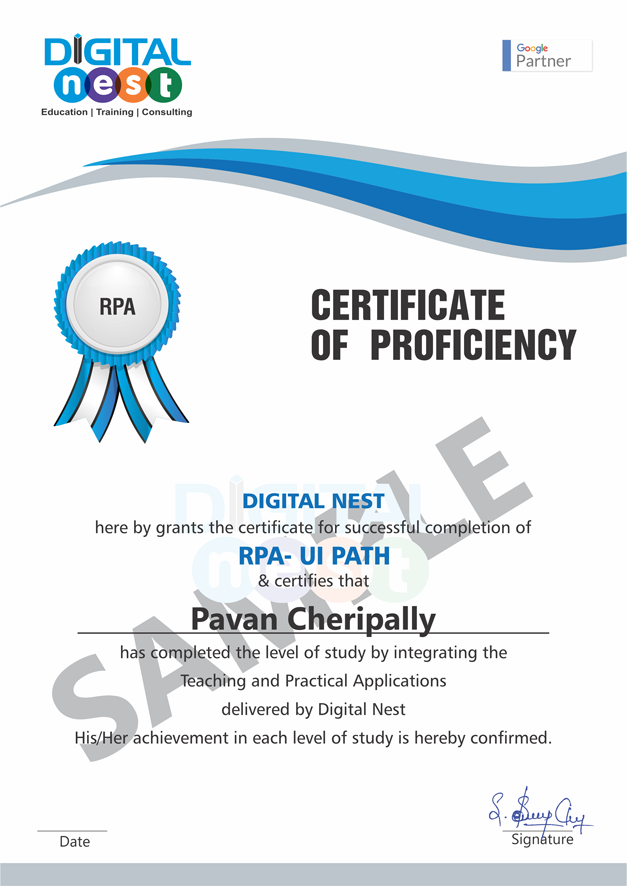 Our
Alumni Testimonials
Rated Avg 4.5*  Out Of 5 by 2000+ Learners



The classes were very interactive, and i loved the RPA sessions. I would recommend Digital Nest for RPA training in Hyderabad. Even with no technical knowledge, I have been able to grasp the subject and push forward in the field! Thank you, Digital Nest.
I completed MBA in 2016 and was searching for a few courses after my college came across Digital Nest's RPA Course. Finally, I made the right choice and completed the course. The best thing about RPA training is anyone can learn; no coding knowledge is required. I came from BBA and MBA background and had no clue of coding or anything technical. Although I was weak on the technological front, the trainers rooted for me and created a great learning environment. Along with my efforts, I completed the RPA course and got through my UI Path Certification exam too.
Thanks to the trainers at the digital nest, I loved the RPA training sessions. They dont only teach theoretically, but many assignments were also given, which helped the entire batch learn practically. Thank you, Digital Nest. One of the best RPA Training in Hyderabad, I will recommend Digital Nest for sure.
I was clueless about my career after my graduation in engineering. Due to the lack of interest in coding or programming, I opted out of any technical courses, but I got to know RPA is one such field; with less programming, you can still work for a corporate or IT company. So, I enrolled in Digital Nest's RPA training in Madhapur branch. I was already aware of Digital Nest, as they are market leaders in Digital Marketing. So, I knew a private organization without external funds always works hard to maintain excellent quality across all its offerings. Hence I immediately enrolled, although the RPA course trainer was also very impressive at the demo. I am glad to choose to learn with Digital Nest. Thank you for such a great learning experience.
I've worked in the testing field for a couple of years and wanted to shift to another domain. I did a bit of research, and the RPA certification course caught my interest. I kept searching for many institutes, attended many demos, and then came across Digital Nest. The demo was excellent, and I instantly decided to enroll with Digital Nest without further delay. I made a few inquiries before registering with the existing students on how the quality of training and service was. I was impressed, so I just went for it. The staff was very prompt with the service, and the trainers were highly qualified and able to clarify all our doubts. Not only theoretically, but then the training was hands-on and practical too. We also used to get job alerts from the team every day. But by the end of my RPA course, I opted for an IJP in RPA. I am now enjoying my work in this field, and thank Digital Nest for the constant support, and thank the trainers for the support post the course.
I am happy to join Digital Nest institute. I had opted for the RPA Course. to be honest, I loved the training sessions. very informative, the office ambiance was also superb. If you are looking for an RPA Certification course, then Digital Nest will be the right institute.
Students , Working Professionals & Business Owners From Various Start Ups And MNC's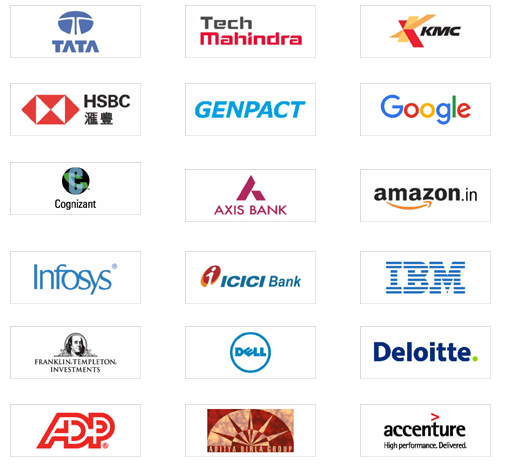 Queries, Feedback  & Assistance