If you have a "WordPress" website and a business owner who understands the importance of online presence and a bit of knowledge on SEO you should be reading this.
Thanks to WordPress plugins which made the job easier especially for SEO's who can't do every action manually which is time-consuming, WP plugins are a lot easier to implement and optimize on their website with one-click activation and without any knowledge on coding or programming.
Let's know something about Schema and its standout elements which are most popular for every website.
Here are five markup elements which most of the website users use nowadays:
Reviews
Ratings
Product Pricing
Company operating hours
Recipe ingredients (If your website is about cooking)
By the way, what are Schema Markup & Rich Snippets
Schema markup is an HTML code that is used to create rich snippets. In order for rich snippets to appear on the website, you need to install a schema plugin in WordPress which we will be discussing now.
Rich Snippets are those rich elements that enhance your search results to make it even more engaging for users to click through them.
Below is an example of how Rich Snippets look in Google search results.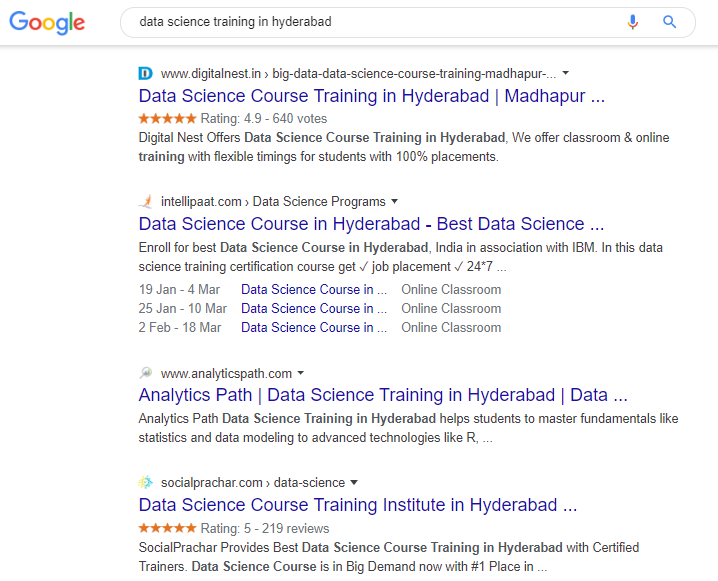 Let's say you want to learn data science and you go on Google and search for "data science training in Hyderabad" the above results appear on Google which is a normal search you might ask what's new in this but if you look at the results carefully you will find a difference.
In addition to the normal results which is a website link, title & description there are also star ratings and reviews displayed to the some of the results which means these websites have implemented a schema markup plugin on their website in order to showcase them on Google.
The point having these rich snippets is they make the searches more extravagant and boost it higher on Google's search.
In technical speaking rich snippets don't directly affect your website rankings on Google SERPs. However, they can still get you rank higher on Google. Let's see how this works.
In this case, Let's take another example for easy understanding.
Let's suppose you are a cake lover and you want to bake a Black Forest cake for a loved one's birthday.
When we don't know the recipe we normally Google it so that we will get recipes related to the search, in this case, we type as "Black Forest Cake Recipe."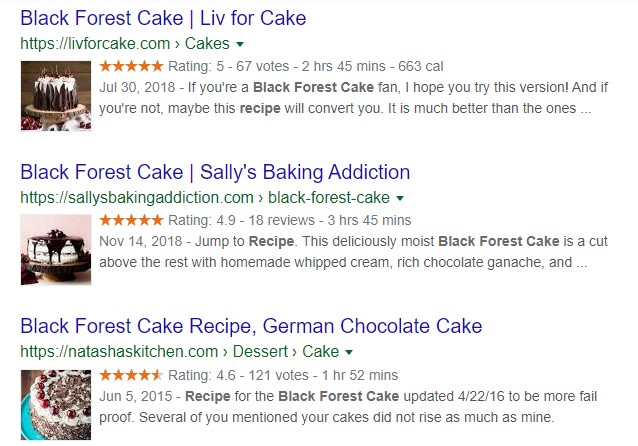 Once you click to enter the above results appear on Google which is well related to your search right!
So here is the question, as a cake lover which recipe result would you most likely to click? One that is rated 5 stars and takes 2 hours and 45 minutes to bake? Or one that is rated 4.9 stars and takes 3 hours and 45 minutes to bake?
Naturally, you'd go for the first option.
What made you click the first option? The star ratings and the hours of making the recipe right! This is the power of rich snippets it increases the click-through rate which in turn takes to your website higher in Google SERPs as your website has the highest CTR amongst the rest of other results.
So, Want to Implement Rich Snippets for Your Website as Well? I've got you the Top 5 Schema WordPress plugins.
Don't worry you don't have to write even a single line of code just install the plugin in WordPress and activate the plugin to work it's that easy.
Schema Pro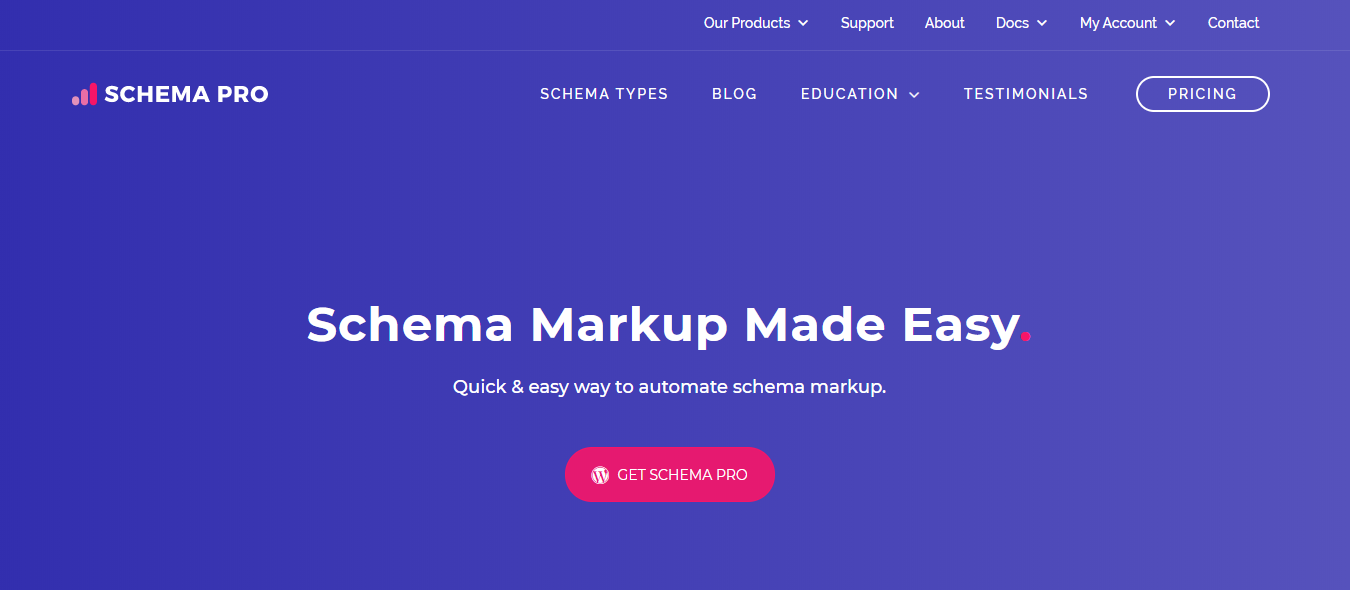 Schema Pro supports 13 useful schema types. These are:
Reviews (music, movies, products, books, etc.).
Services.
Recipes (you can create your own attractive schema rich card that'll boost your click-through rate).
Software applications (add reviews and star ratings to give your applications a boost).
Video objects.
Books.
People.
Products (give searchers detailed information on what you're selling).
Local businesses.
Articles (news, blogs, etc.).
Courses.
Job postings.
Events.
Price: $79/month or $249/lifetime
All in One Schema Rich Snippets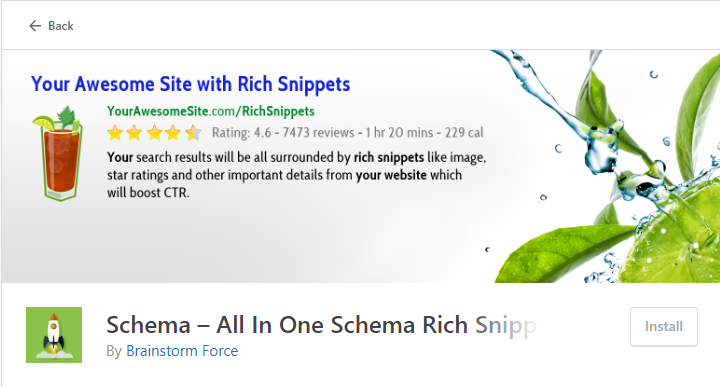 This plugin can be used for free and it is one of the simplest plugins you can find for schema markup.
This plugin provides you snippets for reviews, ratings, events, articles, and software applications.
The downside of using this plugin is it doesn't support automation.
You'll have to add schema markup to each page of your site manually.
What's interesting about All in One Schema Rich Snippets is it's made by the same maker as Schema Pro.
So, which is the best between the two?
Well, Use Schema Pro if you're running a bigger online business.
The price will be worth it for the automation, unique designs, and schema markup support for local businesses.
If you're just starting out and want to try something for free? Go with All in One Schema Rich Snippets.
Price: Free
Schema and Structured Data for WP & AMP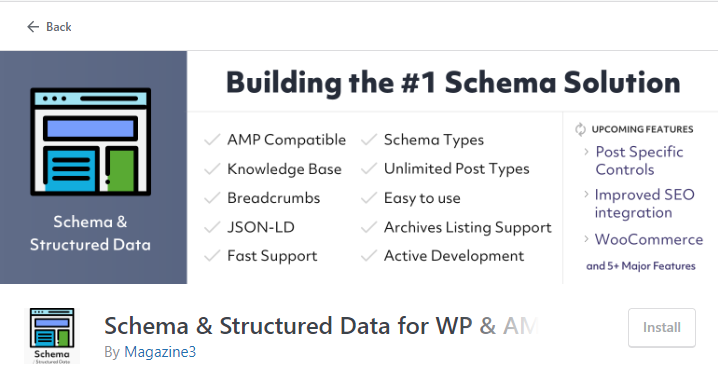 This schema plugin supports 33 schema types that are a lot to offer but for paid.
Don't go away! Look what this plugin has for your website.
The best part? If the schema type you're looking for isn't part of the 33 this plugin offers, you can request a customized type!
Here are other features this plugin offers:
Reviews pulled from over 75 sites.
Your own customized review rating boxes with schema markup.
Compatibility with other schema plugins like SEO Pressor and WP SEO Schema.
Price: Personal: $99, Webmaster: $149, Freelancer: $299, Agency: $499
WP Review Plugin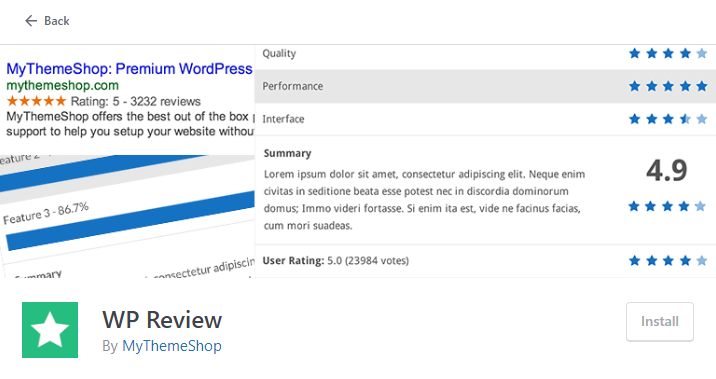 If you have an eCommerce site or a blog then this WP plugin is a good option for you.
Here are the top features you'll get with WP Review:
Rating systems using points, percentages, or stars.
Unlimited color changes for individual reviews.
Lightweight, won't slow your site down.
Supported by most WordPress themes (both free and paid).
2 templates for review boxes to choose from.
WP review is easy to install and configure, making schema markup simple for the least tech-savvy person.
Price: Personal (one site): $49/year or $236/lifetime, Developer (more than one site): $149/year or $596/lifetime, Agency (affiliate marketer): $299/year or $1,196/lifetime.
WP SEO Structured Data Schema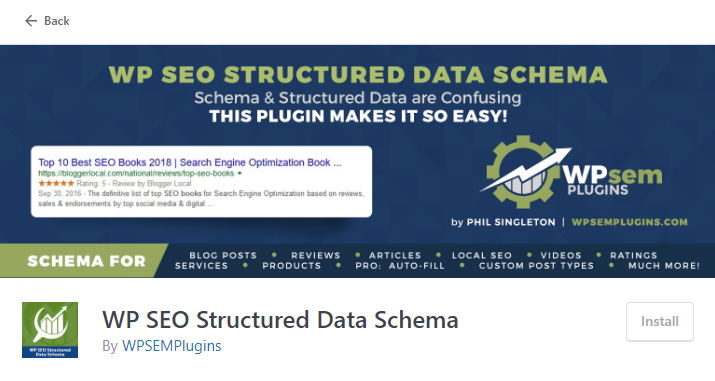 This is another free plugin for you which supports all the basics you need for schema markup and rich snippets.
It supports schema types including organizations, local businesses, videos, events, and ratings.
You can also add geo coordinates, people's names, logos, business descriptions, working hours, and more.
Price: Free
Here comes' the big question. How to choose the right plugin?
It's simple.
You know the answer. If you have a simple website that has fewer pages and doesn't require a detailed rich snippet then go for a free plugin. But, if you have a big and products-based website and if you want to showcase your products on Google then you need to invest some money to get the latest features which will be worthwhile.
I hope you got the answer!
Then why late install the plugin, activate it and improve the click-through rate for your website.
More Resources:
7 Best Yoast SEO Alternatives to Handle WordPress SEO
How and When Can Data Science be Used in SEO?
3 Ways to Prepare for PPC to Get Benefited Throughout 2020
What does Google BERT Algorithm Update Mean?