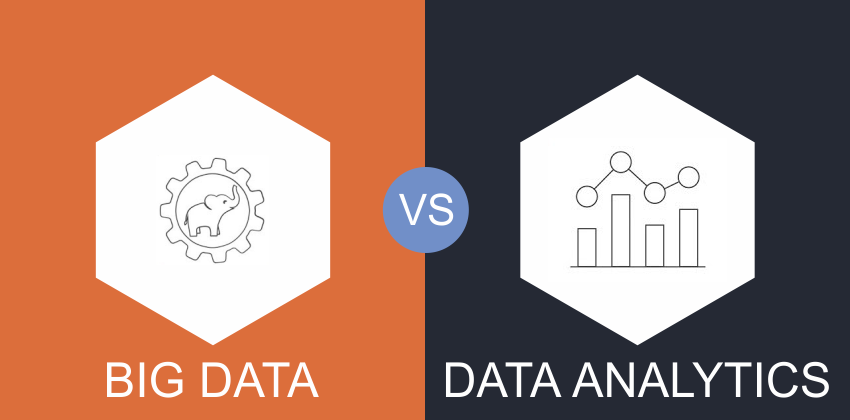 The technical names, jargons everything seems to be similar, but when the deeper roles and responsibilities are considered Big Data and Data Analytics are actually confusing. Though both involved in the same data-driven field and the same technology, Big Data and Data Analytics are actually different.
The buzzword "Big data" has been used by most of the organizations and it caught most of the attention. Let's get to sorting out these two terms, the distinct skill sets required for them and what it all means. For it is important for aspirants to know them to move ahead.
What is Big Data?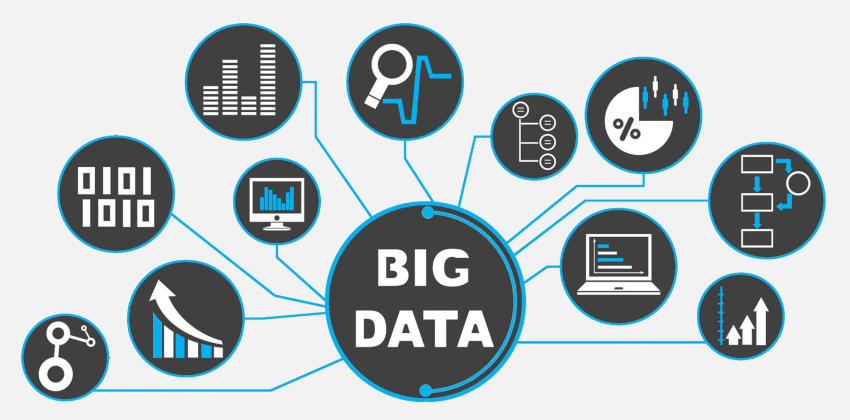 The name itself implies what Big Data is, it generally refers to an immense volume of Data be it a structured, unstructured and semi-structured. Depending on the three factors Velocity, Volume and Variety, it required more analyzing.  The data streams at high speed each day through different mediums and channels like mobile, internet, social media, etc. and used for future for the business to take better strategic decisions.
What is Data Analytics?



Data analytics seek to provide operational insights of the business. It considers historical data and then draws out inferences from them to find better solutions to complex business problems. Data analysis is done at a more basic level and the problem related to data is specifically scanned through and parsed out with a specific goal in mind.
What is Difference between Big Data and Data Analytics?
Big data is the collection of raw and huge data whereas Data Analytics is précised and segregated form of Data which is ready to use.
For an instance, Big Data is like a library whilst Data Analytics is like a particular book in it. A user might not know what to read and the particular questions in Big Data and in this choosing the right one and focusing the right thing.
Another notable difference between the two is that Big Data employs complex technological tools like parallel computing and other automation tools to handle the "big data". Data analytics use predictive and statistical modelling with relatively simple tools.
Application of Big Data and Data Analytics
Data is the chief thing of any activity performs today in the data-driven world. Many businesses are adopting the data-focused approach to be successful.
Retail
Understanding customer pace is the main thing in the business, rather than being competitive, for which the proper analysis is always required to segregate the data. This segregated data is widely used by the companies which include customer transaction data, weblogs, loyalty program data, social media and store-branded credit data.
Communications
Sales and Communications service is all about finding the customers, gaining new ones and expanding the current customer bases. That can be achieved only with the combining and analyzing lots of customer and machine-generated data.
Financial Services
Everything regarding the financial sector such as retails banks, insurance firms, private wealth management advisories, institutional banks and venture funds makes use of this big data. The major challenge experienced by all of them is the large amounts of multi-structured data set in multiple systems which can be take care only by Big Data. This is used in various ways such as fraud analytics, consumer analysis, operational and compliance analytics.
Data Analytics
Fraud Detection
For the loans in the banking sector or any other matter of finance, data analytics help in finding the right customers who applied for loans and making the process easy for finding the probability of customer default.
Proper Spending
There would not be any need of spending a large amount of money spent on little work. Using the Data Analytics would target the needed expenses where tax payer's money would have a major impact on the kind of work.
Health Care
The biggest challenge of the medical sector is treating many patients at all once. Considering the quality of healthcare's improvement, Machine and instrument data use has grown drastically so as to optimize and track treatment, patient flow as well as the use of equipment in hospitals.
Tools used in Big Data and Data Analytics
Data Analytics is entirely dealt with R programming, Python coding, Tableau, Rapid Miner, MS Excel, Google Fusion Tables
Big Data is something which deals with Hadoop, Hive, HBase, Spark and Scala. A basic knowledge of Java is always required for the MapReduce Programming, clustering and Tableau-Hadoop connectors.
Roles of Big Data professionals and Data Analysts
Big Data Professionals Roles
Analyze bottlenecks in the system
Detection of fraudulent transactions
Build large scale data processing system
Architect highly scalable distributed systems
Real-time analysis to monitor the situation.
Data Analysts Roles
Acquire process and summarize data
Package data to derive valuable insights
Design and create data reports using reporting tools
Spotting patterns to make recommendations and seeing trends over time
 Skill set required for Big Data and Data Analytics
Big Data:
Knowledge of  technologies and distributed systems,
Creativity to gather, interpret and analyze a data strategy
Knowledge of Programming languages like Java, Scala, Spark and Frameworks like Apache or Hadoop
Mathematical and Statistic skills to help with number crunching
Data Analytics:
Programming languages like R, Python
Data wrangling skills & Data visualization skills
Statistical and mathematical skills to draw inferences
Job Roles and Salary range of Big Data and Data Analytics
A person who works on Big Data are generally termed as Big Data Analyst and they have certain roles and responsibilities and their annual salary would be around 60,000$ per annum, whereas the person works on Data Analytics are generally termed as Data Analyst and the annual salary would be around $55,754.
For any business, to gain the competitive edge can adopt both these technologies. While big data is largely helping the retail, banking and other industries to take strategic directions, data analytics allow healthcare, travel and IT industries to come up with new advancements using the historical trends.
If you want to become a certified Big Data professional or a Data Analyst, Digital Nest, a leading training institute renders complete spectrum of Big Data Analytics courses and Data Science Course in Hyderabad