Salesforce CRM Training in Hyderabad
Salesforce CRM or Salesforce Customer Relationship Management is a revived version of the traditional CRM. Salesforce allows the cloud storage to run completely without any setup overheads, in order to help the staff to work from any location and from any device, be it Smartphone, laptop, desktop, tablet or PC. Salesforce CRM Training in Hyderabad details the basic & advanced techniques of Salesforce and CRM. The course teaches its students to develop the business application in Salesforce CRM using Admin 201 & Dev 401.

  4.5 Rating   |  1356+ Enrolments   |   Classroom & Online
Key highlights of Salesforce CRM

   100+ Learning Hours

  1 on 1 Student Mentorship

  Learn Using Advanced LMS

  Internship assistance

  65+ Assignments

  100% Placements Assistance

  28+ Industry Relevant Skills

  Trainers with 12 + Experience

Backup Classes, Videos

  0% EMI Option Available
Learn From Experts The Most Salesforce CRM Program In India
Salesforce CRM Course Curriculum
1. ADMIN
1. Introduction to Cloud Computing
What is Cloud Computing
Types of Cloud Services
a) IAAS
b) PAAS
c) SAAS
2. CRM – Customer Relationship Management
What is CRM?
Sub Modules of CRM
3. Salesforce Introduction
What is Salesforce?
Why Salesforce
Editions and Sandboxes
How to signup for Developer Edition?
Understanding Salesforce Application UI
4. Objects
Standard Objects
Custom Objects
5. Tabs
6. Applications
Standard App
Custom App
7. Fields
Standard Fields
Custom Fields
System Fields
Formula
Relationships

a) Lookup b) Master detail + Roll up summary

Field Dependency
8. Data Checking
Validation Rules
9. Schema Builder
10. Out of the Box UI
Page Layout
Search Layout
Mini Page Layout
Record Types
11. List View
12. Groups
13. Queue
14. Security Model
Profile
Permission Set
Org Level Security
Profile vs Permission Set
15. Object Level Security
16. Field Level Security
17. Record Level Security
Org wide defaults
Role Hierarchy
Sharing Rules
Manual Sharing
18. Automation
Workflow
a) Introduction to workflow
b) Email Template
a) Email Alert
b) Task
a) Field Update
b) Time dependent workflow actions
19. Process Builders
Introduction to Process Builder
Trigger Point
Criteria Node
Actions
Workflow vs Process Builder
20. Approval Process
21. Reports and Dashboards
Reports
a) Tabular Reports
b) Summary Reports
c) Matrix Reports
Dashboards
22. Migration
Code Migration
a) Metadata
b) Workbench
Retrieve
Deploy
23. Data Migration
a) Data Wizard
b) Data Loader
b) Data Wizard vs Data Loader
24. Plugins
2. LIGHTNING
1. Need of Lightning
2. Introduction to Lightning
3. Understanding the Lightning Component and aura Framework
4. Setup to Build Lightning Component
a) Setup Custom Domain
b) Lightning Experience
5. Lightning Component Bundle
a) Create Lightning Component
b) Know Your Lightning Bundle
Component
Controller
Helper
CSS Style
Design
Documentation
Re-render
SVG File
c) Exponent Component Library
6. App Builder
7. Get and Set Data
8. Reusability
Parent to Child
Child to Parent
Events
Application Event
Component Event
9. Lightning Interfaces
10. Lightning Data Service
11. Debugging
3. DEVELOPMENT
1. Need for Customization
2. Introduction to Apex Language
3. OOPS Basics in Apex Language
a) Variables
b) Data Types
c) Access Modifiers
d) Comments
e) Conditional Statements
IF
IF ELSE
ELSE IF
3. Iteration/loop
a) Basic for Loop
b) For Each loop
4. Collections
a) List
b) Set
c) Map
5. Class
a) Method
b) Constructor
c) Sharing Model
6. Exception Handling
a) Try Catch
7. Explore Developer Console
8. Data Manipulation Language
a) Insert
b) Update
c) Delete
d) Upsert
e) Usage of exception handling
9. SOQL and SOSL
a) Query tab of Developer Console
b) Workbench
c) Plugins
10. Debugging
11. Triggers
a) Introduction to Trigger
b) Trigger Events
c) Trigger Context Variables
d) Before and After Trigger Context
12. Order of Execution
13. Code Coverage
a) Test Class
14. Governor Limits
a) Understanding the Limitations
b) Best Practices to avoid Governor Limit
c) Asynchronous Apex
Future Methods
Batch Apex
Queueable Apex
Scheduled Apex
d) Custom settings and Custom metadata
4. VISUAL FORCE
1. Need of Visual Force
2. Introduction to Visual Force
3. Visual Force Architecture
4. Creation of VF Page
5. Fetching Data from Different Source
6. Visual Force Tags
a) Page
b) PageBlock
c) Input & Output Components
d) List Views
7. Adding Comments
8. Adding Styles
9. Controller
a) Standard Controller
b) Custom Controller
c) Controller Extensions
10. Advance topics of VF
Salesforce CRM Course Description
 Are you ready to be incubated in the Sales Force course? Come join our Sales Force Training Program in Hyderabad at Digital Nest and nurture your technical skills. Sales Force is a CRM cloud-based methodology which steers all the companies. It's basically a single platform intended to manage all the characteristics of Sales via clouds to implement business necessities. 

Digital Nest is a Salesforce CRM training institute in Hyderabad which offers this course with the support of well-qualified training staff who belong to renowned institutes of the country and takes pride in delivering the best of knowledge to its students. This course also includes sales app builder training and salesforce administration training in Hyderabad along with the Salesforce CRM training

Not just that, We at Digital Nest, Hyderabad have a dedicated placement team and will guide you in the right direction and help you land in best of best  Salesforce opportunities in Hyderabad and elsewhere. We also provide required placement assistance followed by Certification and proper Salesforce Training in Hyderabad. We stand as the best coaching center for Salesforce because of the carefully curated curriculum and many other reasons

Our Salesforce Course is not just limited to Hyderabad individuals. In order to enhance our Salesforce training beyond the borders, we provide  E-learning facility and access to recorded sessions as well. Salesforce aspirants, you're totally welcome here at Digital Nest, Hyderabad

Our Salesforce Certification in Hyderabad at Digital Nest is tailored to hone you with the required industry knowledge and adequate Sales Force Training. Our carefully curated curriculum is the reason we at Digital Nest stand out to be the best Institute for Sales Force Training in Hyderabad.

Individuals like Graduates, Developers, IT Professionals, End Users, Administrators , Job seekers can take up Sales Force Certification. The average packages for people in the field of Sales Force ranges from 3lpa- 13lpa. Our Trainers hail from big companies and well revered institutions. Salesforce has been ranked as a leader in "The Forrester Wave "Digital Experience platforms in 2021. 

Become a Salesforce professional and give your career the much needed boost. Get ready to be part of the most trending Salesforce CRM course in Hyderabad. Acquire skills in Salesforce CRM, gain plenty of knowledge ang get qualified for high paying jobs with Digital Nest Salesforce Certification program.

Sales Force revolves around Lightning, Visual Force, Development, etc. From Cloud Computing to CRM and Automation. Salesforce is all about developing loops, collections, triggers, SOGL, SOSL, etc. In simple words, Salesforce is a tool to help, support and automate any organization's processes. Scale your business, architect and co-create with Salesforce platform.

For SMEs, it's quite easier as they do not collect overwhelming information from their customers, but large organizations find it difficult to keep up. This is why they invest heavily in a CRM application. Especially companies like Amazon, Facebook, etc. There are several types of CRMs a company can purchase such as Zoho hubspot, Microsoft Dynamics, Service Now, Oracle and a lot more but Salesforce has been the leader in the segment.

Salesforce CRM is the largest cloud based CRM application in the world. A CRM is used to store customer data like digital footprint, shopping experience, personal details, etc. Basically every information a client shares in the data when they have an interaction with the brand.

Every organization wants to hire someone who knows about the proper usage of application so they don't waste funds on training. Apart from the fact that you can store data, you can also create apps for solving business hindrances. Therefore, we can say that the capability of the Salesforce Training is amazing. The Salesforce ecosystem is ever growing, reach out to us at Digital Nest, Hyderabad and get trained for Salesforce Certification.

Importance of Salesforce CRM:

-In order to have healthy business operation, CRM aids you ditch clunky processes and manual effort

-It brings better Marketing ROI

-It's very helpful for Lead Generation

-It is a storehouse for customer related information

-It customizes and expands business

-Binds the entire team regardless of place

We encourage our students to actively participate and implement their Business ideas and qualified guidance is assured by our Salesforce Trainers. We operate in three learning centers viz. Ameerpet, Punjagutta and Madhapur in Hyderabad, India. Our Corporate office is based in Madhapur, Hitech City, India. 

Along With Salesforce Training, we also commenced various courses like Data Science Training, Big Data Analytics, Microsoft Azure Training, AWS Training, DevOps Training, Full stack Python Training, RPA Training & Digital Marketing Training and Post graduate diploma programs – PGP in Digital Marketing, PGP in Data Science and PGP in Cloud Computing in Madhapur Branch at Hyderabad, India
Salesforce CRM Training Modes
We have Physical instructor led classes happening at Panjagutta and Hitech City Branches , Hyderabad
We teach Courses online Using tools like zoom, Microsoft Teams
How E-Learning Works?
We have recorded videos of the trainer . This videos were recorded while taking the class. We kept in mind that student should feel the classroom environment while training. we request you to take a trail session. if you are satisfied you can take up the course.
For trail session and more information you can contact digital nest sales team on +91-8088998664 or write us at info@digitalnest.in
We offer special Training for Companies we first understand the company, its services and we will diagnose the present marketing practices and then we prepare a customized curriculum that suits to the needs of that particular company.
For Corporate training you can Reach our Sales Team at +91-8088998664 or you can also write to us at info@digitalnest.in
FAQ's Of Salesforce CRM Training
What are the course pre-requisites?

Salesforce CRM training institute in Hyderabad ideally does not demand any prior requirements to opt for this course. This is suitable for all professionals who have a basic knowledge of computer and its applications. Though if you also know Core Java or any other programming language, then it will be an added advantage to pursue our course Salesforce CRM in Hyderabad.

Who can attend Salesforce Course?

App Builders, developers, administrators, sales managers & executives, IT professionals, implementers, project managers, job seekers, graduates, end users, practically anyone can learn Sales Force Training in Hyderabad.

How can this course elevate my career graph?

Salesforce training in Hyderabad can help you fulfil the business goals and dreams to attain better and effective customer relations. Learning salesforce CRM from Digital Nest and working as a professional for any company can give you a chance to enhance the working capacities of the company where you wish to work and increase the effectiveness of their sales by automating the system process of performing day to day business actions.

Why Salesforce course training in Hyderabad?

Digital nest offers the Best Salesforce training course in Madhapur Hyderabad with teaching faculties from reputed institutions of the country. The goal of our coaching institute is to ensure a great career graph for the students and enrich their knowledge skills through our Best Salesforce Training in Hyderabad
APPLY NOW
Get details In your Inbox and a call back from our course consultants
Get Course Completion Certificate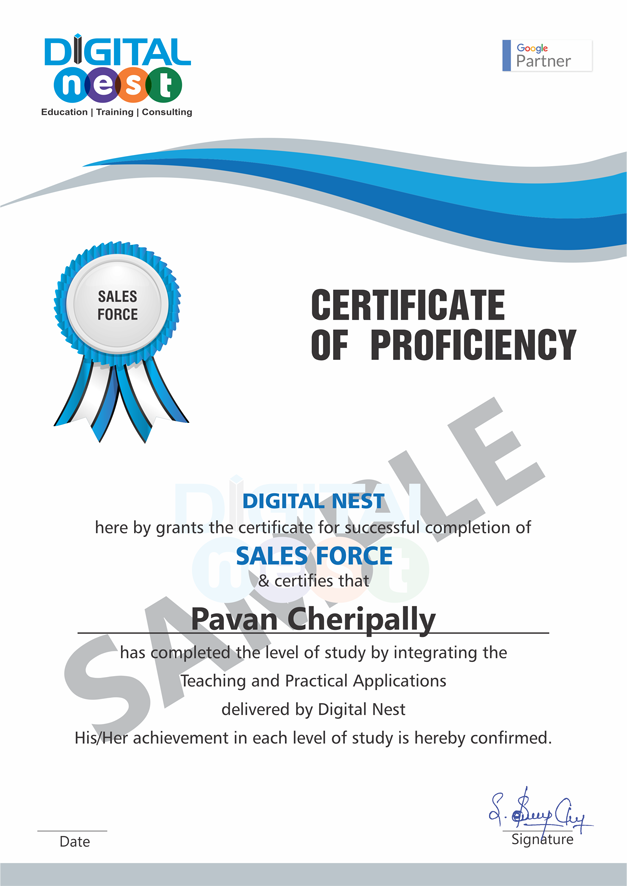 Our
Alumni Testimonials
Rated Avg 4.5*  Out Of 5 by 2000+ Learners



Salesforce CRM is a very good course for working employees .  Digital nest is helped me a very lot. It's a very comprehensive course for both students as well as business people like me. 
I have got professinal salesforce training and assitance from a reputed institute which is called Digital nest and reliable service provider. Thank you…… Digital nest.
Students , Working Professionals & Business Owners From Various Start Ups And MNC's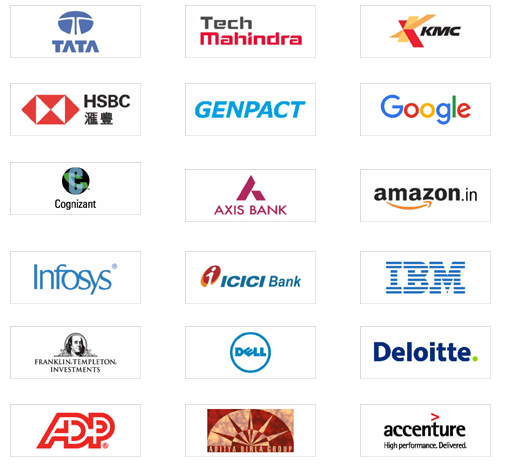 Queries, Feedback  & Assistance