AWS Training In Hyderabad, India
The AWS certification course has become the need of the hour for freshers, IT professionals, or young entrepreneurs. AWS is one of the largest global cloud platforms that aids in hosting and managing company services on the internet. It was conceived in the year 2006 to service the clients in the best way possible by offering customized IT infrastructure. Due to its robustness, Digital Nest added AWS training in Hyderabad under the umbrella of other courses.

  4.5 Rating   |  1000+ Enrolments   |   Classroom & Online
AWS Training In Hyderabad, India
The AWS certification course has become the need of the hour for freshers, IT professionals, or young entrepreneurs. AWS is one of the largest global cloud platforms that aids in hosting and managing company services on the internet. It was conceived in the year 2006 to service the clients in the best way possible by offering customized IT infrastructure. Due to its robustness, Digital Nest added AWS training in Hyderabad under the umbrella of other courses.

  4.5 Rating   |  1000+ Enrolments 
Key Highlights of AWS Course
Real-time AWS industry experts curate the course.

Trainers with 10+ years of Practical experience.

100% assured placement Assistance.

State of the art training center, with centralized AC in each classroom

Dedicated placement team.

Practical Implementation based teaching-learning approach with r

eal-time examples.
Exercises, Assignments, and handouts after every session.

Certificate after completion of the AWS course.

Access to classes and Wi-Fi for pre/post session practice sessions.

Trainer support after completion of the AWS training.

Conduct timely assessment tests to track the learning of the students. 
Learn From Experts – The Most Advanced AWS Program In India
1. Introduction to Cloud Computing
Introduction cloud computing world History
Cloud business models
Public, Private and Hybrid cloud models
Advantages of cloud computing?
2. AWS Overview
AWS Regions and Availability zones
Tools to access services
Overview of the console
3. Linux Essentials
Introduction to BASH
Basic Commands (is,cd,cat,touch,mkdir)
Text Editor(vi)
Package Management(yum)
Installing and Removing Software
Configuring a Apache Web server
Creating File System and mounting
Volume Management
4. AWS EC2(Elastic Compute Cloud)
Introduction to EC2
Pricing models On-demand vs Reserved vs Spot instances.
Using Amazon Machine Images (AMIs) to create instances.
Public vs Private Images.
Sharing Images to other accounts.
Logging into instances using key pairs.
Converting PEM files to ppk.
Volumes and types.
Using snapshots for backup.
Increasing the size of the volumes.
Backup and restore process of the EC2 instances.
Adding network interfaces.
Assigning static IPs using Elastic IPs.
Control access to instances using Security Groups.
5. Elastic Load Balancer
Introduction to Elastic Load Balancing.
Creating ELB from Console.
Attaching instances to ELB.
Configuring Ports, Protocols and health checks.
Enabling sticky session.
Connection draining.
Enabling SSL Certificates for https transactions.
6. Cloud Watch
Introduction to CloudWatch Monitoring Service.
Setting thresholds.
Configuring Actions.
Monitoring CPU, Memory and network utilization of different resources.
Creating Notifications.
Integrating with Auto-scaling.
7. Simple Notification Services
Introduction to notifications.
Creating Topics.
Subscribing to Topic.
Publishing to SNS Topic.
Testing Email and SMS Functionality.
8. Relational Database Service
Introduction to Managed Database.
Creating RDS instances using AWS console.
Choosing an RDS engine and version.
Public vs Private database instances.
Multi-AZ setup.
Backup using snapshots and point in restore.
Parameter Group.
Options Group.
Control access to instances using Security Groups.
9. Auto-Scaling
Overview.
Creating launch configuration.
Creating auto-scaling group.
Auto-scaling policies.
10. AWS S3 (Simple Storage Service)
Introduction to Simple Storage Server (S3).
Storage options (default vs reduced redundancy vs Glacier).
Creating buckets using Console.
Uploading and downloading data tS3.
Building static websites using S3.
Enable version control on S3.
Creating buckets using Console.
S3 access policies.
11. Storage (Glacier)
Introduction to Glacier. (S3).
Moving data from S3 to Glacier.
Setting archiving policies on S3.
12. Cloud Front (Content Delivery Network)
Introduction to Content Delivery Networks.
Overview of Amazon CDN
Origins and Edge locations
Configure S3 backend for CloudFront.
Configure ELB backend from CloudFront.
13. Elastic BeanStlak
Introduction to Elastic BeanStlak.
Creating Environment.
Deploying a Sample APP.
14. Identity Access Management (IAM)
Introduction to IAM.
Access controls using IAM.
Creating users, groups and roles.
Assigning policies.
Inline vs Managed policies.
15. Virtual Private Cloud (VPC)
Introduction.
Choosing a network design and CIDR.
Design a simple network.
Creating Subnets and setup routing as per the design.
Using IGW tenable internet access.
Access controls using Network ACLs.
Network ACLs vs Security Groups.
Creating Private connections data center to AWS.
Enabling VPC peering between VPCs.
16. Cloud Formation
Introduction.
Understanding the template format.
CloudFormation designer.
Create a simple CloudFormation template.
Managing dependencies.
Updating the existing stacks.
Intrinsic functions.
Pseudo parameters.
Updating CloudFormation stacks.
Understanding event.
Cloudformer.
17. Using CLI
Introduction AWSCli.
Installing CLI tools using rpm or pip.
Configuring credentials.
AWS CLI syntax.
Creating and managing resource using CLI.
Examples.
18. Route 53(DNS Service)
Creating Hosted Zones.
Hosting a Website.
Understanding Routing Policies.
Weighted, Simple and Failover Policies.
19. Best Practices
Cost Optimization.
Cloud migration Strategy.
Using 3rd party tools for health and billing monitoring.
Amazon Web Services (AWS) Training in Hyderabad at Digital Nest, Hyderabad, India is the best Certification you could get if you're looking to be a professional in Internet Services. AWS is one of the largest global Cloud platforms that lands you in a core technical job. AWS Certification will abet your career by giving you an overview of managing and hosting Services of Internet.
 Global Knowledge Study stated – AWS is one of the most popular and lucrative Cloud Certification programs in the Information Technology sector globally. A survey conducted by Indeed stated that an average salary for AWS Solution Architect to Technical Specialist ranges from $76,039 per year to $1,39,550 per year, approximately. With so much in store for AWS Certification, you should definitely check out the curriculum of AWS Training at Digital Nest, Hyderabad without any further delay and get ahead towards a bright career.
Not many people are aware of AWS Certification and its perks. AWS is a combination of expertise learning demos and hands-on training. AWS is the new-gen technical advancement which is intricate yet, we at Digital Nest, Hyderabad comprehensively designed the curriculum keeping up with the industry standards. The main agenda of AWS Certification is to learn Cloud Services. 
We at Digital Nest commenced AWS Training in Hyderabad to ensure technological implementation. In today's IT era, Cloud is a new normal. To deploy highly scalable applications, AWS was introduced. Digital Nest bags the first place when it comes to providing the best education to students which makes us the top Training Institute in Hyderabad. In order to involve students globally, we at Digital Nest, Hyderabad introduced E-learning as well.
We at Digital Nest, Hyderabad have a dedicated placement officer and AWS Course with placement assistance and a portal for the students who are seeking jobs for AWS Certification, we also have various connections in Hyderabad and digital hubs. Our Placement coordinator will guide you with placement assistance and finding  AWS opportunities in Hyderabad and elsewhere. Our AWS Training is not just pertaining to coaching students but our AWS Certification is followed by placement assistance.
Do you want to become an Expert in AWS? We at Digital Nest, Hyderabad came up with carefully curated AWS Training to enhance the transformations in the technological arena. We ensure the scalability of operations.
 By completing our AWS Certification at Digital Nest, Hyderabad, you will become a proper AWS professional and can help companies to create complete cloud infrastructure by providing AWS Services. The pricing of AWS Certification is done accordingly with the quantity and resources (types of resources) consumed by users from their end.
The question is why AWS in particular? AWS is one of notable courses and plays a significant role in the Cloud Service Provider domain apart from Google Cloud and Azure. To keep up with the trend in the cloud computing area, taking up AWS Certification will help you cope up with the competitive job market.
 Furthermore, AWS Certification not only establishes professionalism in just one domain but it also aids and expands in the overall threshold of AWS Community as a broader aspect. Apart from that, AWS Certification at Digital Nest, Hyderabad ensures continuous learning and professional enhancement.
Upskill your career by taking up AWS Certification at Digital Nest, Hyderabad. Organizations can also get the best out of AWS Certification. Companies could become an AWS partner by intaking more employees with AWS Certification.
 Being an AWS Professional opens doors for landing a high-paying career. It grows credibility that will enhance your career. AWS Cloud Architect associates with Engineers as customers by providing an interface with technical management and partners only only in Hyderabad and India but it widens your graphs to other states and countries as well.
We encourage our students to actively participate and implement their Business ideas and qualified guidance is assured by our AWS Trainers. We operate in three learning centers viz. Ameerpet, Panjagutta and Madhapur in Hyderabad, India. Our Corporate office is based in Madhapur, Hitech City, India. 
Along With AWS Certification, we also commenced various courses like Data Science Training, Big Data Analytics, Microsoft Azure Training, Digital Marketing Training,, DevOps Training, Full stack Python Training, RPA Training & Salesforce Training and Post graduate diploma programs – PGP in Digital Marketing, PGP in Data Science and PGP in Cloud Computing in Madhapur Branch at Hyderabad, India.
We have Physical instructor led classes happening at  Hitech City Branch , Hyderabad
We teach Courses online Using tools like zoom, Microsoft Teams
How E-Learning Works?
We have recorded videos of the trainer . This videos were recorded while taking the class. We kept in mind that student should feel the classroom environment while training. we request you to take a trail session. if you are satisfied you can take up the course.
For trail session and more information you can contact digital nest sales team on +91-8088998664 or write us at info@digitalnest.in
We offer special Training for Companies we first understand the company, its services and we will diagnose the present marketing practices and then we prepare a customized curriculum that suits to the needs of that particular company.
For Corporate training you can Reach our Sales Team at +91-8088998664 or you can also write to us at info@digitalnest.in
What are the pre-requisites for AWS Course?

AWS training in Hyderabad requires basic knowledge of any programming language. Additionally, if you know the concepts of distributed systems, cloud computing, multi-tier architecture, and other general programming based concepts, it will be faster for you to grasp the course. Although, the AWS training can be completed by a non-technical individual too. 

Who can learn AWS Course?

AWS Certification course in Hyderabad is well-suited for programmers aspiring to build IAAS, SAAS & PAAS applications, system & network administrators, solution architects. Those who want to be experts in migrating data from existing data centers to AWS, software developers, and even freshers or postgraduates who wish to acquire knowledge about cloud computing can learn the AWS training.

How can the AWS course elevate my career graph?

Learning AWS training in Hyderabad from Digital Nest will help you get a job in the prestigious companies. This course teaches the candidates about one of the most trending technologies of the present time. Apart from the obvious, enrolling for the AWS certification can boost your resume to a great extent. There is a dire need for AWS certified experts in the market, and getting hired with massive demand in the market is high. Companies like Air BnB, Netflix, and many others have chosen to house their data and use AWS services to smoothen their platform's operations. Even the small enterprises are catching up with this trend. It only explains that more and more companies require professionals that expertise in this field. 

Why Should I learn the AWS course in Hyderabad?

Digital nest offers the Best Amazon Web Services training course in Madhapur Hyderabad with teaching faculties from the country's reputed institutions. Since every company is taking a step towards a cloud future, our goal is to ensure a great career graph for the students and enrich their knowledge skills through our AWS Training in Hyderabad.

Who are eligible for the AWS Course?

A B-Tech, B.SC Computers, or degree graduate, or anyone who wants to build their AWS career, can learn this course. Digital Nest offers AWS Training for students interested in cloud computing services also can learn this course.

What is the course duration for AWS?

It will take 30 days to complete the AWS Course and get a job in various roles like Cloud Software Engineer, Cloud Developer, DevOps Engineer, AWS Solutions Architect, and AWS SysOps Administrator.

What are the job profiles after the completion of the AWS certification course?

AWS Certified Developer, AWS Certified SysOps Administrator, AWS Certified Solutions Architect, AWS Certified DevOps Engineer, AWS Certified Solutions Architect, AWS Certified Cloud Practitioner, DevOps Engineer, Senior AWS Cloud Architect.

What is the salary package for an AWS Certified Solutions Architect?

For a fresher, the average salary will be 3-3.5 Lakh P.A., and for an experienced candidate, the average wage will be 4-5 Lakh P.A.
APPLY NOW
Get details In your Inbox and a call back from our course consultants
Get Course Completion Certificate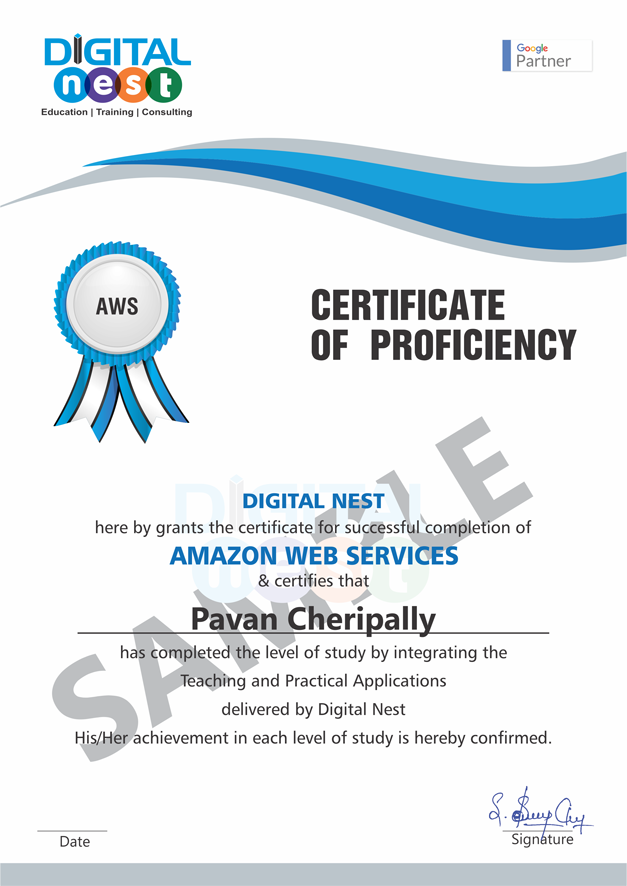 Our
Alumni Testimonials
Rated Avg 4.5*  Out Of 5 by 2000+ Learners



Due to the pandemic, finding and enrolling in the best AWS training institute in Ameerpet or Madhapur was difficult. The lockdown made all the more difficult. But I came across Digital Nest who provided E-learning of the AWS Certification course. Although it was online and self-learning, I still felt the classroom experience. the AWS training was extraordinarily informative and extensively taught. There was a precise balance in theory vs. practical implementation. The trainer was patient in explaining every concept down to the basics. I will highly recommend Digital Nest to the aspirant who wants to take AWS training in Hyderabad or online self-learning
I am happy to join the Digital Nest institute. I had opted for the AWS course in the Madhapur branch. I live in Kondapur and searched many institutes in Hyderabad but then what impressed me in choosing Digital Nest was their trainers and curriculum. I decided to travel from Kondapur to Hitech city to learn this course, and today I would say I made the right choice in choosing the best AWS training institute in Hyderabad.
Students , Working Professionals & Business Owners From Various Start Ups And MNC's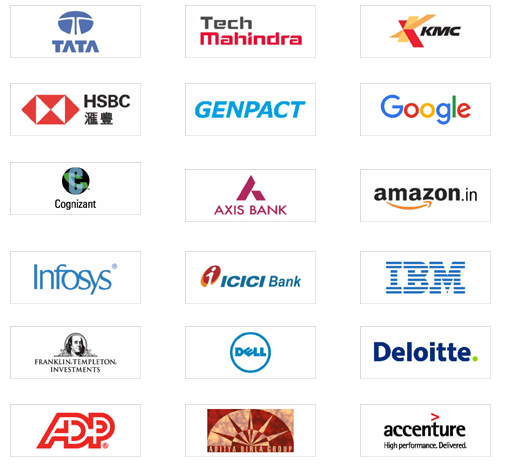 Queries, Feedback  & Assistance